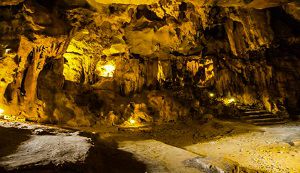 The wonderful work of art of the mother of nature -Thien Canh Son Cave
06.30 Wake up and attend in a Tai Chi exercise class on deck. Studies have shown tai chi improves muscular strength, flexibility, fitness, improve immunity, relieve pain. It has value in treating or preventing health problems and can be easily adapted for anyone. The class lasts for 30 minutes.
07.00 Enjoy the morning sunrise with a cup of tea or coffee, have breakfast while the boat sails to
Thien Canh Son Cave
. The cave attracts a lot of tourists because of the wild natural beauty, incredible stalactites in different shapes and cool atmosphere.
You return to the Cruise, pack your stuff, check out and transfer your luggage to the reception area.
We cruise
back to the harbor
and
disembark at around 12.00
.
Early lunch is served on board
on the way back.
12.00 You get in vehicle to
set off for Hanoi
and reach the destination around 16.30. Check in Hotel and relax.
Overnight at Hotel in Hanoi.