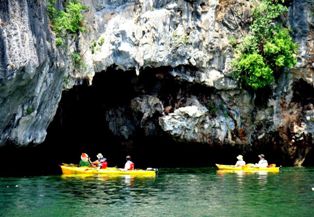 Let's indulge yourself with the beguiling activities on Lan Ha Bay.
09.00.
Gather passenger to the shuttle bus for transferring to Dinh Vu Port, Hai Phong City.
12.00
. Embark to a tender.
12.15.
It takes around 15 – 20 minutes to cruise ahead to the cruise, check-in the cabin after enjoying a welcome drink
12.40.
Contemplate Da Chong Islet, continue exploring Con Vit, Gia Luan islets, Ba Trai Dao Beach, Lan Ha Bay, Da Chong islet, etc.
Lunch at the restaurant while the cruise sails over Cat Ba Island, Thoi Quyt area, Coc Ngoi islet.
14.45.
Admire
Lan Ha Bay
via Ba Trai Dao area. Make the most of enjoying the pristine beach and tranquil atmosphere.
15.00 - 17.30.
You can experience one of two bellow options:
Option 1: From April to Novembeer: Do kayaking and explore small coracles, which are used by fishermen for centuries. This is an opportunities of learning fishing offshore with fishermen and trying other interesting activities like casting the nets,
Option 2: From December to March, visit Viet Hai Village.
Option: Massage on cruise.
17.45.
Don't forget to enjoy the fascinating sunset on the way back to the boat.
Join in cooking class with Vietnamese food on board.
19.30.
Have the dinner at the top deck with the skyline background & romantic music.
After that, you can choose to relax at your private cabin or join in the outdoor activities.
Overnight on board.
Note: We use the program of Orchid Cruise Halong in this demo of Package Laos to Vietnam border crossing. Your real itinerary will be clear with the exact cruise you book.