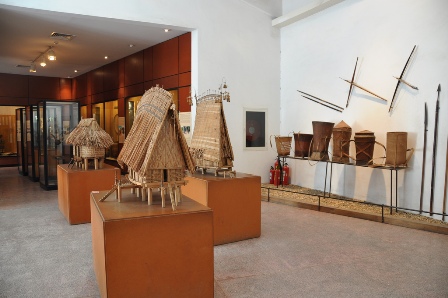 The model of "Rông house" in Vietnam Museum of Ethonology
One day experience the culture and history in Hanoi Capital
After your breakfast at hotel, try to experience an early morning Hanoi by your selves (observe from the balcony of the hotel).
08.30 a.m.
Far East Tour's bus & tour guide are willing to travel with you from the main lobby of the hotel. We begin going around Hanoi with the most exciting destinations.
You will have a chance to look at Hanoi working in the morning through the bus. It is really an unfamiliar imagine with dozen of motorbikes in the street. Sometime, when you take your eyes in the sidewalks, you can find out the street hawkers who wear conical hats and carry two loads of goods (flower, fruit, noodle, etc) on their thin shoulders. Being embellish somewhere, the women who are taking a bicycle of colorful flowers stand along the street beside the ancient house.
The first place we stop is
Ho Chi Minh Mausoleum
region. We will be listened tour guide tell about the revolution life of Uncle Ho and see his tombs from the outside. Nearby, we visit One Pillar pagoda
– one of the most original architecture temple in Asia with wooden structure.
The Temple of Literature
: The first university of Vietnam is near to. With only around 7 minutes, we can stay at the temple where worship the Le Kings and owns up to 80 stone turtles as the super nature power of feudal doctors. Vietnamese people often come over here to try their luck in study and examine in the first day of New Year. Especially, The Temple of Literature connects closely to Vietnamese students. Visiting it, you could easily see the young girls in long dress who want to take some photos to memorize their student-life.
Having lunch with "Phở cuốn" and "Bánh Tôm" to know about the best dishes of Hanoi which is connected with Hanoi from hundreds years.
In the afternoon, Far East Tour will take you to
Vietnam Museum of Ethnology
where can provide to you the general view of ethnic group in Vietnam. With lively models of each minority groups, The Museum is voted as one of the most interesting museum of Asia.
Savoring your dinner with
"La Vong Grilled Fish"
, a famous cuisine of Hanoi.
09.15 p.m.
We catch the Fanxipan Express Train to transfer to Lao Cai Province.
Overnight on the Fanxipan Expess.