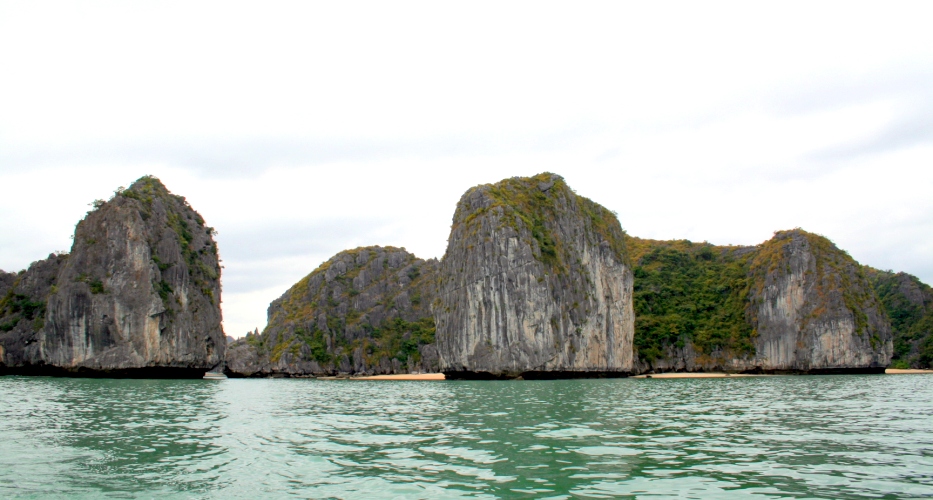 Go to Three Peaches Island and Beach, enjoy swimming, sunbathing privately
06.30. Anyone needs a healthy status for beginning the nice day then we recommend having a Tai Chi exercise which took place on the sundeck. It allows you to refresh and bring the best status for your body.
07.30. Grayline restaurant serves light menu for breakfast including snacks, coffee, tea and bakeries.
08.30. Special weather and tide condition in Halong will affect to your health and other factors so that you must ensure that you can adapt to them quickly as soon as you arrive. To explore completely the stunning beauty of Halong Bay, you will be arranged with following activities including joining with fishermen, and you have a day to do it.
Taking part in fishing activities together with local fishermen, they will guide you how to go offshore by fishing boat and, of course, if you are interested in! This is an indispensable activity of Grayline so don't be afraid to enjoy it.
Exploring Drum Cave under Karst rocks by kayaking. It's suitable for those who love nature and really want to discover the hidden parts inside the fascinating scenery.
If you are interested in pearls then this activity will be the best choice. You have chance to visit the typical pearl farm on Halong Bay and learn the way pearls are made.
Our crew is willing to lead you to Van Gia Village, one of the fishing villages in Halong which can be described as a floating house. Let take the chance of contemplating the beautiful scenery over the daily floating life. With an aim of focusing on the fishing activities of fishermen in Halong, we help you to understand how they can survive from the harsh nature and make you know the real value of life.
17.30. Buy-one-get-one-free event is still available for those who has missed on the first day, or else you simply just need to sit on the sundeck and enjoy the skyline at dusk with the slight tune surrounding
18.30. We repeat the cooking event like on the first day to ensure you did not forget how to make a nice Spring roll.
19.30. Enjoy the mellow sounds of music together with the water wave while taste the dinner on board.