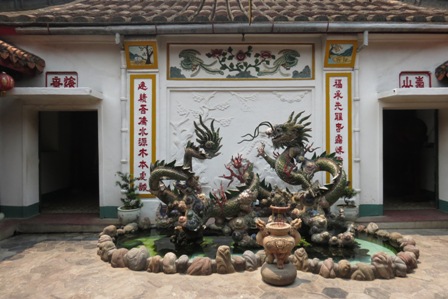 The sophisticated dragon statue at the back yard of Phuc Kien Assembly Hall.
08.00.
Meet the local tour guide at your hotel, then going to the ancient town. You will visit the most impressing and characteristic projects as the Temple Kwan, Phuc Kien Temple, Tan Ky Ancient House, Phung Hung House, Japanese Bridge and cultural showrooms in
Hoian
. After that, you can go to some local shops to buy souvenirs, or offer a tailor-made costume (If time is permitted).
12.30.
Go back to your hotel.
End of Hoian Old Town Tour on a half day.
Some information of remarkable projects:
Japanese covered Bridge Temple:
was created by the Japanese merchants in the middle of the 16th century. The temple has had a special sacred meaning. It were built with the aim of overpowering the Mamazu sea monster (Vietnamese calls "con Cu", and Chinese calls "Cau Long"). The bridge is 18m length crossing over apart of Thu Bon River. In side of culture, the bridge is supposed as a symbol of exchanging culture between Vietnam, Japan and China.
Tan Ky Ancient House:
Located in Nguyen Thai Hoc street, Tan Ky is a 200 years old house that has still kept intactly its original architectures. In the end of the 18th century, Tan Ky were built by the most talented artisans of
Kim Bong carpentry village
. The houses with the wooden material, horizontal lacquered board, scroll has brought many colorful oriented messages and sophisticated philosophy. Tan Ky is typical for "chồng rường giã thủ" architecture including 2 overlapping cross-bars – symbol for nature and human and 5 length beams – the symbol of Five Elements. The harmonious architecture is a metaphor of the dream about concord between human and nature.

Phuc Kien Assembly Hall:
was built in 1697 by a Chinese group who were born in Phuc Kien province. This project is deep into the Chinese architecture and design with the colorful and clever sculpture relics and alto-relievos about flowers and birds. Phuc Kien was not only the holding place of Phuc Kien people, but it has been also used to worship Mother Goddess who protects for fishermen and other gods who response for the sea, assets, money and altars.
Note: The half day city tour can be operated in the afternoon.