Top 17 checklists before you go to Vietnam
If you consider traveling Vietnam or other Indochina countries, you may have many questions in terms of organization before departure, from searching international flights to developing itinerary and booking accommodation. It is necessary to know some essential information about Vietnam in order to prepare well for your trip.

Vietnam since its independence is a country opening to the world and welcoming tourism. Therefore, this destination is very appreciated by travelers with plentiful landscapes and its unique way of life. Moreover, Vietnam is a safe country but sometimes complex because of language barrier. To help you during your trip in Viet Nam, there are some guides on the spot. Nevertheless, preparing your project in advance remains essential for its success.

1. How to go to Vietnam?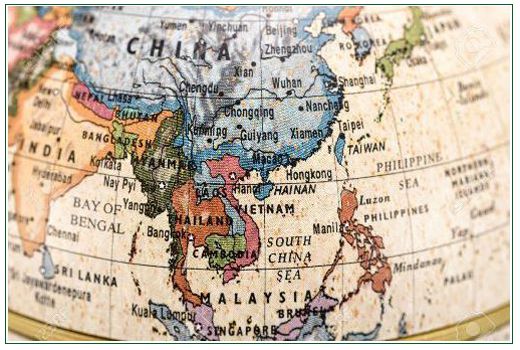 To get to Vietnam from your country, you can easily find direct cheap flights or transit flights from the online website of the airport companies. The reliable and reputable Vietnam National Airlines and its international partners offer both of direct and transit flights with good schedule (overnight flights, early morning arrival in
Hanoi
and Saigon).
Other airlines such as Tiger Airway, Cathay Pacific, China Eastern, Thai International, Singapore Airlines (non-exhaustive list) also offer flights with good services. The price of these airlines may be more economical at certain time, but it is necessary to check well the duration of stopover and total flight time.
If these flights land in Cambodia (often in
Siem Riep
), Laos (often in Vientian / Luang Prabang), Thailand (often in Bangkok), Korea (often in Seoul), Singapore, or Malaysia (Kula Lumper) … they are entirely possible to integrate with Vietnam Airlines (stop in Hanoi or Saigon).
2. Vietnam when to go?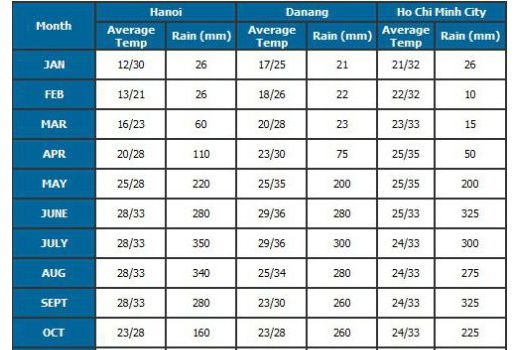 "When to go to Vietnam?" is a common question of travelers. There is no unfavorable season or perfect period to visit Vietnam as the country climate is remarkably diverse.
In the South, the temperature is always warm, the weather is rainy during monsoon months (June to September) but this does not usually hinder visit.
In central and northern Vietnam, temperature differences are more marked with cool and sometimes foggy winter (December to mid-March). Particularly in central, from the end of August to the beginning of November, the weather can be unstable and rainy.
Reference on holiday calendar can also be a source of information for travelers. During the Lunar New Year (Tết), the price will be higher and there is a week of festivities happen.
3. Do I need a visa for Vietnam entering?
In recent years, citizen of some European countries and S.E.A area have visa exemption for staying not exceeding 15 days (this visa exemption is valid until 30 June 2017 and may be renewed). Beyond this period, a visa is required.
You can get visa at Vietnamese Embassy in your country. The documents and procedure are available on Embassy website. Local agencies can also prepare a visa upon arrival for a lower cost ($25 / person for a single visa).
For other countries, such as in the case of extension to Laos or Cambodia, visa is taken at the border without prior preparation. The cost is $30 / person. With or without a visa, any travelers to Vietnam and neighboring countries must have a passport valid for more than 6 months after the date of return.
Detail information for visa exemption to Vietnam (Updated July 28th 2017):
(Euro area) Citizens of Germany, United Kingdom, France, Italy and Spain have exemption Vietnam visa for 15 days (applied to June 30th 2018).
(Other) Citizens with passport of Japan, Korea, Sweden, Norway, Denmark, Russia, and Finland have exemption Vietnam visa for 15 days.
Citizens of Brunei are exempted Vietnam visa for 14 days.
Some neighbors in S.E.A, the citizens of Thailand, Malaysia, Singapore, Indonesia, Cambodia and Laos are exempted Vietnam visa for 30 days.
4. What to do in Vietnam? What to visit in Vietnam?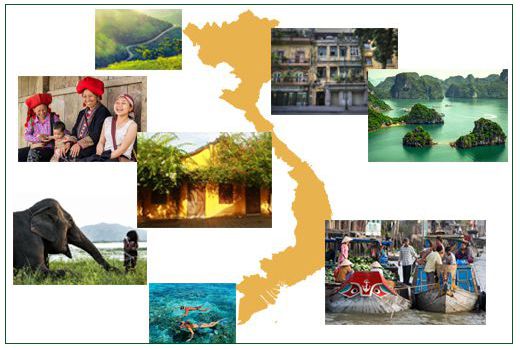 to summarize the geography of this great country, it can be divided into three major tourist regions:
The North of Vietnam, apart from Red River Delta is mountainous and authentic region, suitable for hiking and homestay accommodation in remote villages. Mountain ranges, terraced paddy fields, eroded karst formations and upland markets are hallmarks of this country's part. Besides, you must remember visiting the famous
Halong Bay
and of course Hanoi – the millennial capital of Vietnam. Your itinerary should be added some other beautiful places, such as Tam Coc (Ninh Binh), Mai chau valley, Pu Luong and Cuc Phuong national park...
The center of Vietnam is a rich cultural heritage region, including Hue, the capital of former time emperors where you will discover superb imperial city and majestic tombs. And Hoi an, an ancient town with original longstanding architecture and sweet life will make you impressive by its appearance out of time. The archaeological site of My Son and Champa museum in Da Nang are the most visited sights of this region. Nearby, beautiful beaches are ideal places for relaxation.
The South of Vietnam is an area of intense rice cultivation. The Mekong Delta called rice granary of the country where is a marvelous harmony of rice fields and coconut groves. Saigon, the former colonial capital, now is the economic capital of the country, conceals hidden treasures beyond its hectic animation. The very typical district of Cho Lon is particularly worth to visit in a few hours.
Beaches of the South such as Mui Ne, Phu Quoc are ideal places for relaxing, bathing in dry season. From Mekong Delta or Saigon, you can easily to move to Cambodia to explore Angkor Wat temple. These are some examples of the best sites to visit in Vietnam, and there are many other nice destinations rich in discovery potential.
5. Which Vietnam travel route to choose? From North to South or from South to North?
Discovering all the major sightseeing of Vietnam (North, Central and South) requires a minimum stay of 12 to 14 days. However, the pace of travel may be sustained, take you a few more days. Indeed, the country is very extensive and journeys are sometimes long, especially on the road. Three weeks seem to be a more pleasant time to enjoy moments of relaxation and personal discovery.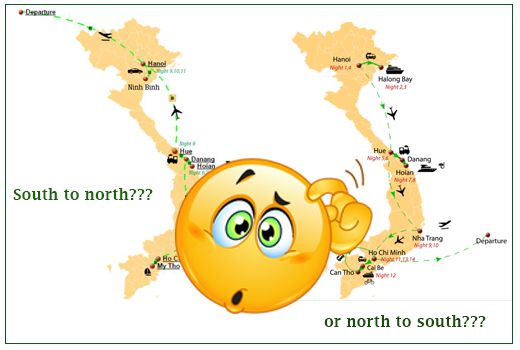 Many travelers choose to discover certain regions each time and come back Viet Nam several times. For example, you can combine visiting the North and Center from 15 to 20 days or visiting the South Vietnam and Cambodia from 10 to 15 days. This way of organizing trip takes advantage of a more in-depth discovery and a more flexible rhythm for travel.
In general, there are some different ways to approach Vietnam:
Visiting stand-out places of Vietnam from North to South (or vice versa depending on season) on a minimum time of 12 to 14 days.
Traveling one or two regions to browse them more thoroughly.
Long-term travelers (from 20 to 30 days or more) can choose to visit 3 countries (Vietnam, Laos, Cambodia) on a single trip to make their international flight more profitable. Traditionally, travelers consider the North of Vietnam represents ancient history and culture, while the South symbolizes modernity and openness to the world. So, it seems to be logical to go from the North towards the South (through the Center) to discover Vietnam. With this itinerary, you will end your trip by enjoying happy time at famous beaches of the South.
Nevertheless, depending on season or price of international tickets, starting from the South and finishing in the North is of course possible.

6. How to get around and travel in Vietnam?
As mentioned above, it is more comfortable for you to travel by plane or by night train with long distance.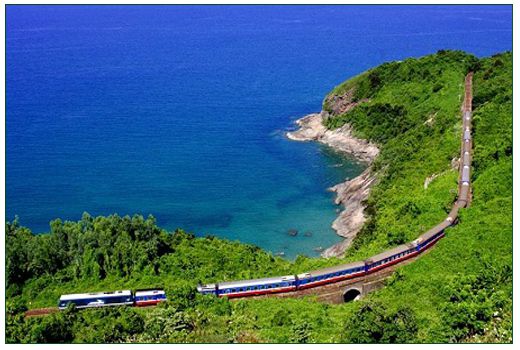 Vietnam's domestic airlines connect all of the country's major cities. In general, long journeys are easily organized by domestic flights because Vietnam takes advantage of a reliable and well organized internal air network. The rail network go through less developed cities from North to South and opposite with a line up to Sapa and Lao Cai. These lines generally offer night trains for long distance and have a significant advantage for traveler's budget.
Traveling by train makes you more tired and takes longer time, but keeps tight budget and travelers can see surprising sights.
Private vehicle trips are only made with a licensed drivers for safety reason. Long journeys on the road should be reserved for special stages of outstanding landscape. If you travel on over long distances, it is necessary to use the hire of vehicle with driver. This service is frequently offered in local travel agencies. Visitors note that the drivers usually speak only Vietnamese.
Renting scooter is possible but it is necessary to be very careful and aware of peculiarities and intensity of traffic in Vietnam. Insurance is required to travel.
You will find many taxis in cities at very affordable rates for short trips.
The sailboats on Halong Bay are reserved for leisure cruises to discover this famous sightseeing.
As for the Mekong Delta, the private sampans present a privileged discovery of this region.
Cruise ships connect Saigon to the temples of Angkor wat in about a week, and a fast boat service connects the Delta to Phnom Penh (Cambodia) within a few hours.
7. What security measures for travel in Vietnam?
8. Is travel insurance useful for travel in Vietnam?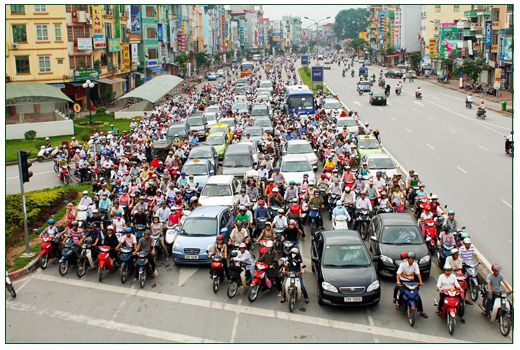 Vietnam is a very safe country for travelers and people are friendly and welcoming. Nevertheless it is appropriate to pay attention to following points:
The traffic is very dense (most are two wheels, but there are also cars and trucks). So, it is necessary to be careful when walking in town or moving by scooter on the roads.
The Principe route is different from some Western countries (right side for vehicle is the right), although same in theory but travelers must adapt to it.
To pay attention to your belongings, especially in some major cities as Hanoi and Saigon, where pickpockets are sometimes reported.
Regarding the need to be covered by travel insurance for any on-site care, a repatriation health if necessary, it should be known that this type of coverage is provided by most of the bank cards with which you will probably settle your trip. It is advisable for the traveler to check beforehand his level of insurance cover before contracting a specific insurance to travel to Vietnam. Note that local agencies, unlike French tour operators, do not offer in their package because the insurance.
9. Which languages are spoken in Vietnam?
The official language of Vietnam is Vietnamese, the alphabet is the same as ours but many accents and tones condition the understanding. Some professionals speak a little English and you will meet some students in big cities to converse in French. Nevertheless it is useful to bring a basic conversation guide to exchange on a daily basis.
Francophone guides are available for one-time visits or to accompany you on a longer tour. Note that the drivers of rental cars usually only speak Vietnamese.

10. Which currencies are used in Vietnam?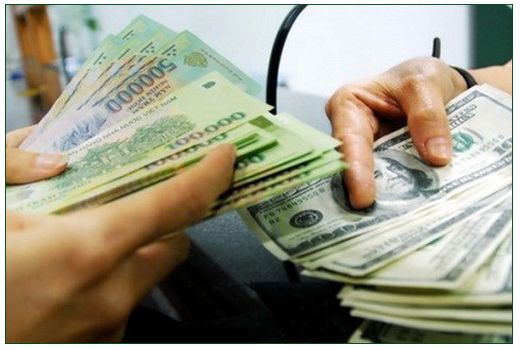 The official currency of Vietnam is the Dong. It is preferable to use the local currency, which avoids the temptations of round prices. For exchange the Euros or the US Dollars are also accepted. It is necessary to bring with you average cuts (50 or 100 USD) in good condition because the local currency at a very low price compared to Western currencies. The rate fluctuates daily and should be checked before the exchange.
Bargaining is often presented as a use in Asia, but be careful not to exaggerate the risk of offending your interlocutor who, do not forget, lives on his trade.
Tips are not used in the restaurant unless the waiter offers to you an extra and appreciated service. On the other hand, tourism guides and private drivers are paid in part on tips.
Bank cards are accepted in some shops (big restaurants, hotels, travel agencies) but it is important to know that bank charges are borne by the customer in Vietnam (3-4% of the amount paid). Many vending machines will be at your disposal to withdraw in local currency on site. The US Dollars are only necessary to settle any visa fees. In some remote areas of Cambodia the US Dollars is advised as currency.
11. What are the best places for hiking or trekking in Vietnam?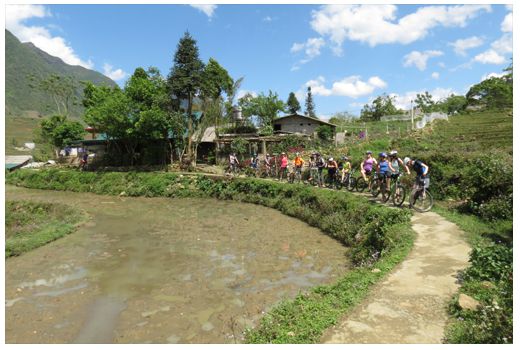 The northern highlands of Vietnam is particularly suitable for hiking. The magnificent landscapes and typical of Asia offer majestic imagines to steps of any level.
In general, the road of hotographers which crosses the High Tonkin from the east to west allows superb treks from village tp village with the accommodations in the authentic and warm inhabitant. The area is also rich in natural jungles or mountain ranges. It help you explore the flora and fauna more closely.
For this type of sporting discovery of Vietnam including several itineraries of hikes, the assistance of an English-speaking guide is very useful because the walking routes are rarely marked. Specialists in their region, they will present to you all the wonders and its behind untold stories. Especially, the local guides will show you all their expertise in the matter. of trekking route.
12. What are the most beautiful beaches in Vietnam?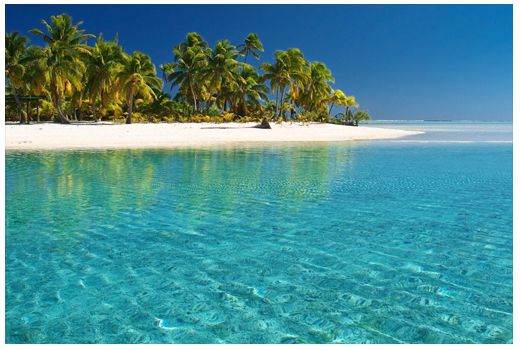 From the Center to the South, a succession of beautiful beaches are likely attract travelers in search of relaxation and enjoying. We must talk about the beaches of Hoi An, Nha Trang and Mui Ne / Phan Thiet. Further south, the islands of Con Dao and Phu Quoc require sea or air transfers.
On these beaches, there are series of beautiful resorts at fairly affordable prices. Enjoying the tropical climate of the long coasts also makes your vacation more bewitching and exotic.
Some places with seaside stages must take into account the season of the trip. For example, the rainy season in the South which, if it does not prevent the tourist visits, would make your seaside stage less pleasant.
In the north, the shores of Halong Bay contain some sheltered beaches as on Cat Ba Island, but the climate makes the favorable period to the seaside stay is limited to the summer season.
13. How to choose an accommodation in Vietnam?
The quality of hotels in Vietnam is good generally. They are often clean and comfortable. Even in the budget class (2 stars), the establishments are in general air-conditioned, and have private room of bathing and toilets included inside. The budget rooms are can be cheaper without a viewing window and private balcony. Let's avoid if possible in any case be when booking. And remeber that the rooms facing the street are generally not the "quietest" by definition. Free Wi-Fi is always available in Vietnamese hotels. Breakfast is often served in the form of a buffet.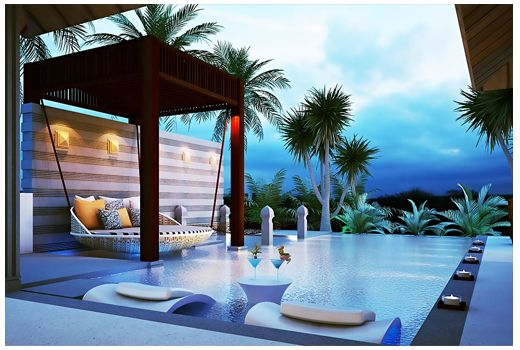 In general, the location of the hotel in the city center, close to the centers of life (restaurant, spots, and amenities) must be the main criterion of your choice in order to make the best of your stay. By choosing the superior categories (3, 4 and 5 stars), the room will be more spacious, the view more pleasant and comfort improved.
On the regions enjoying a pleasant and gentle climate (schematically from Da Nang to the South) hotels have swimming pool, often located on the roof top, or in a park where the place allows it, as in Hoi An. In the rural sites and on the beaches, very beautiful ecolodges seduce by their environment and the individual lodgings (bungalows).
On routes in the remote areas (upper Tonkin, Central Highlands) there are sometimes only hotels with (very) local standards and minimal comfort.
In the northern highlands of Vietnam it will be wise to choose the accommodation at the inhabitant on certain stages. Welcomed by a family in an ethnic village, the comfort is more summary than in the hotel but the warmth and friendliness of hosts and the exchanges facilitated by tour guides will give you immersive and authentic experiences. Vietnam homestay is very worthy to do "home hosted meals" to approach closely to the traditional values and cultures.
These lodgings in the inhabitant (outside the big cities or this formula is non-existent) are offered to the travelers who want it in the north especially (route of the photographer) but also sometimes in the Center (in the countryside towards Hue) and in Delta of the Mekong in true families of the soil.
14. How to travel with my kids in Vietnam?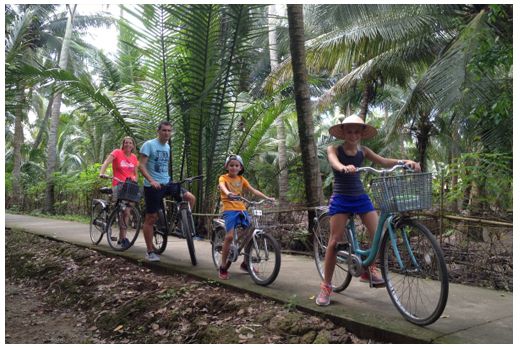 As mentioned, Vietnam is very safe for your family and your kids to travel and stay. It is advisable to verify for the children that they are well up to date with all their mandatory vaccinations in your countries and to be consulted by your doctor about specific topics, especially malaria, although the risk is very low by taking the good sense of measures such as clothes for avoiding covering dusk, anti-mosquito, air conditioning or mosquito net to sleep…
It should also prevent the harmful effects of the sun by wearing caps and sunscreen. For any abroad journey, it is necessary have a truly clear and suitable itinerary. It is more thoughtful you make, better trip you gain. The fatigue caused by the long journeys using cars (and jet lag) in order to a rhythm journey that is adapted to the younger groups needs to avoid.
In the administrative side, any traveler, even minor must hold his passport always under the conditions of the host country.
Traveling with your infants (less than 2 years old) can have logistical disadvantages and constraints linked to the climate (hot and humid). So it is necessary to organize details such as the transport of a stroller. It is necessary in any case to be provided a quiet route, easy experience and limit the long journeys with some interesting activities on the spot such as walking, cycling.
About the side of food, you will find on the spot any type of catering as local, typical or international style. It will have a gap of your choice and their taste, although in principle, the local cuisine is really quality and has little health risk. For example, almost of hotels offer a continental (European) breakfast in addition to local menus. Your travel provider should be able to provide you with all the guarantees of comfort (accommodations, vehicles) and any specific advice for a family stay in Vietnam with infants or kids.
Vietnam is a very beguiling country to awaken your children by their unique culture. In the fact, beyond the traditional visits of ancient temples and other old spots, many activities adapted to their age can be proper such as making a local toy, a kite, or simply sharing simple ball games with the local or ethnic children at the place that you will encounter during the stays in the Vietnamese villages.
15. How to organize Vietnam tours for seniors?
Traveling to Vietnam and neighboring countries (Laos, Cambodia) for seniors is totally possible. Indeed, the countries of ancient Indochina are societies of the traditional style where the elderly have their rightful place and are entitled to the deep respect of the whole family. As Vietnam, a peaceful country, to take a classic tourist trip and to discover all the major sites of the country at an adapted rate seem to have no difficulty for the seniors.
In the course of the program, it may be necessary to adapt the on-site activities, especially the easy trekking. The hot air sometimes increases the exhausted feeling. Similarly, long journeys will preferably be made by airplane to avoid unnecessary kilometers on some chaotic roads.
In another side, there are very beautiful river cruises, well suited to seniors. They also allow to reveal the authentic life of Mekong Delta to the imposing temples of Angkor (Siem Reap, Cambodia).
Some precautions should be envisaged before the departure such as travel insurance in case of health problems. The ongoing treatments should be carried in the baggage, although the on-site pharmacies allow, by presenting the prescription, to help out on most of subjects. In this regard, it should be noted that modern hospitals provide, if necessary, very good medical coverage in large cities.
The providers chosen in the organization of a trip into Vietnam for seniors must be able to ensure an adapted comfort to the age and the state of form of the participants. Providers should also be able to offer follow-up and assistance to Vietnam in order to leave the peace of mind. The presence of a certified English-speaking guide, attentive drivers, and technical support through offices are elements that will reassure the senior travelers for the smooth running of the trip.
16. How to get off the beaten track in Vietnam?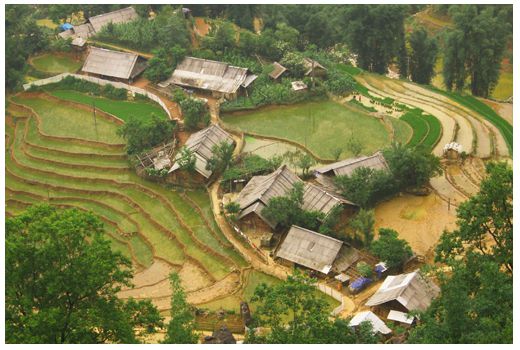 The dream of all the travelers into Vietnam is to discover both of the selected highlights and the beaten track of the country. This requirement of authenticity is a major theme in the organization of a trip to Vietnam. There are several different ways to improve a project to get off the beaten track in Vietnam.
First of all, let's focus on small groups (of couples, family, friends) and
tailor-made tours
rather than large groups organized "on the go" by non-local operators who offer the much "formatted" itineraries.
Similarly, a small group can more easily visit sites that cannot be missed in the different ways thanks to private escorts who know the tricks and the cross-roads to avoid mass tourism. Then making sure to have a sufficient time for a deep discovery of the regions crossed. If possible, preferring stays more than 15 days for a revealing of the whole country will allow to insert stages and atypical and confidential experiences. Especially, by this way, you will get lots of time to be indulged yourself into the true Vietnam. And if it is not possible, it will be more comfortable and genuine to deepen the other sides of the regions like the Tonkin high.
Finally, the program is important to insert into the authentic stages, original activities such as a cooking class or home hosted meal, and original and immersive accommodation such as a homestay in mountain villages or Mekong Delta.

17. Should I do a package tour or backpack?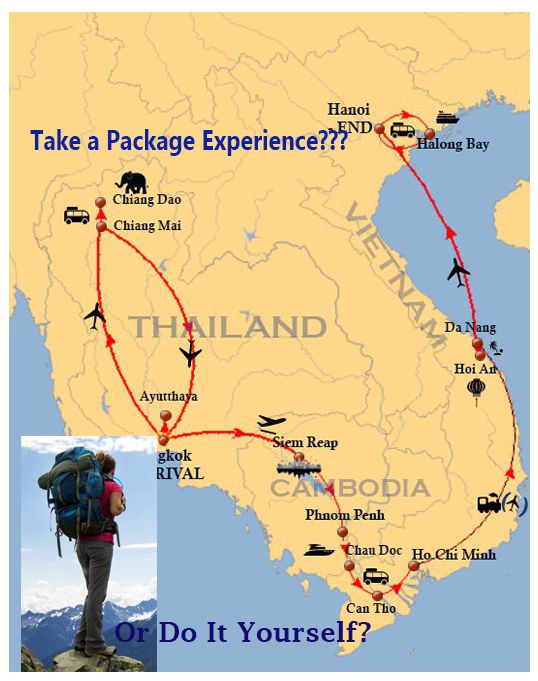 The organization of an accommodation in Vietnam requires some expertise for an authentic discovery. It is easy to book certain services by yourself, but without guaranteeing of the best rate for hotel rooms or domestic flights. For example, a local operator such as an agency in Hanoi or Saigon is better able to negotiate the tariffs directly for the traveler in the framework of a tailored trip to the mastered budget. Then traveling its own does not guarantee to get off the beaten track, on the contrary, who better than a local actor in finding for you the best way to visit a site or organize an atypical excursion?
Very often, the isolated traveler will find himself in the train of join-in groups for popular experience and thus find the faults from the mass of tourism that he wanted to avoid.
Lastly, to organize your stay with a local expert, you can travel in peace and quiet: hotels and transport are reserved, tour guides and drivers are available, and all these leave the traveler more time for the rest and immersing in the true value of Vietnam by an intimate way, without surcharge, without bad surprise or risk of scam.
Some notes when traveling Vietnam
Should not :
• Do not drink water directly from the tap, especially after a flood.
• Avoid walking by cyclo when it's dark.
• Costume neat and appropriate when visiting the people's houses and temples, shrines ...
• Do not bring valuables when you go out at night or go to the beach.
• When crossing a road - especially in Ho Chi Minh City - pay attention to traffic on both sides and slowly.
• Do not directly give money to ethnic minorities, instead donate to local charities or give them a small gift, such as a pen.
• Try at least one food on the street.
• Get permission before taking pictures, especially in remote areas.
Should :
• Overnight on Ha Long Bay
• Order tailoring at a local tailor shop
• Take a pedicab stroll slowly through the old French quarter of Saigon
• Enjoy chicken noodle soup at a sidewalk noodle shop.
• See the traditional water puppet show in Hanoi
• Attend the full moon festival in the ancient town of Hoi An
• Drinking Can wine
• Take a boat on the Perfume River in Hue, visit the tomb of the king
• Overnight at inns in riverside gardens of the Mekong Delta
• Visit the biggest market in Saigon - Ben Thanh market
• Walking around the old town in Hanoi
Travel Conversation Questions



Eleanor:
If travelling on a British passport and cruising into Vietnam do I need a visa?
Fareastour :
British passport holders can visit Vietnam without visa for 15 days. You may check it in most of the travel websites which mention to the visa to Vietnam
scottj765:
British only get 15 day visa so better obtain one before you arrive
Amy W :
How to legally renew my 3 month tourist visa
Any ideas.
Brent W :
Says 12 business days...
I'd ask around travel agents, but it might be quicker and easier to go to Saigon yourself or do a visa run to Cambodia and fly back with a new 3 month visa.
Kerstin84 :
Hi.. Im Malaysian. I will fly from Kuala Lumpur to Phu Quoc and staying there for 2 nights. Then will fly from Phu Quoc to Ho Chi Minh. Stay at HCM for 2nigjt before flying back to Kuala Lumpur.
As i know, we as a Malaysia passport holder are allowed to enter Vietnam up to 15 days without obtaining a Visa.
It is also apply in my situation whereis i will be flying in multiple city within vietnam.
Seek advise. Thanks in advance
Fareastour :
Quite. You're flying WITHIN Vietnam. Visa issues only come into play when you ENTER or LEAVE the country.
The only current exception to this is folks who arrive in Phu Quoc and request/accept the 30 day Phu Quoc visa exemption. They're limited to the island. Arrive anywhere else, or arrive in Phu Quoc on any other basis and there is no restriction at all on where you can travel in Vietnam.
So, make sure you're getting the 30 day exemption that your Malaysian passport entitles you to rather than the 30 day exemption which is specific to Phu Quoc. Make it clear to the immigration officer what your plan is.
Call to book
(+84) 3 87 86 68 52