Vietnam Homestay Tours
If you love the rustic and authentic beauty of the countryside, this is the right place for you. Vietnam Homestays take you closer to the real life of locals and imposing natures, which you will not be able to forget. By the way of experience home-stay, you will have more chance to touch to the essence of a country that famous destinations cannot bring to.

Likely an escape from your daily routine with noise and busy life, Vietnam Homestay Tours is blended between the totally relaxation of non-touristy places and the immersing into colorful habits - customs of some area. Besides the funny activities as some classic tours: biking or exploring around the villages, coming over handicraft families… Vietnam Homestay Tours also provide other surprising as cooking class and hosted meal with Vietnamese dishes, explore the local markets. Especially, the markets of the highlands are often amazingly colorful by costumes of minorities.

Along the S-shape of Vietnam, there are many ideal places for homestay overnight as northern highland, Ninh Binh, Hanoi, Saigon, Hoi An, Da Lat, Mekong Delta… Each place will share you its only interesting characteristics that you cannot find out in others. Sapa home-stay is rustic but its values is great. You will live among the spectacular mountains and rice-terraces, interfere with hill-tribe inhabitants. Hoi An homestay is different by the architectures of a 16th commercial port; Da Lat, the landscape of flowers, is romantic. In the center of boiling Hanoi or Saigon, you can still seek for a simple home-stay bringing the ancient beauty of French colonial architectures. Homestays in Mekong Delta or Ninh Binh will be the best time for experience luxuriant gardens of Vietnamese farmers.
Mai Chau Homestay Tour in 2 Days
Itinerary: Hanoi / Mai Chau / Hanoi
Mai Chau – the valley with a comfortable climate all-year-round is always the first choice to...
Price: $0
2 days
Vietnam Homestay Tours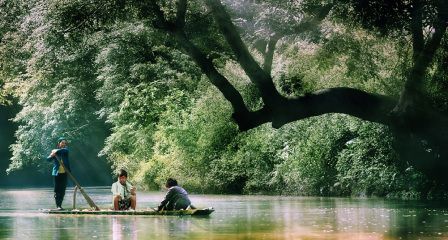 Ba Be Lake Homestay 2 Days 1 Night
Itinerary: Hanoi / Ba Be National Park / Pac Ngoi / Nang River
Ba Be Lake is recognized as one of the largest fresh water lakes of the World, accompany with a...
Price: $0
2 days
Highlands Home-stay Tour
Ha Giang Homestay Tour in 6 Days
Itinerary: Hanoi - Hagiang - Dong Van - Meo Vac - Hoang Su Phi - Bac Ha - Hanoi
Welcome to Vietnam's North Pole – Ha Giang Province. Let allow us to impress you by the...
Price: $0
6 days
Vietnam Homestay Tour
Moc Chau - Ninh Binh Homestay Tour
Itinerary: Hanoi - Moc Chau - Ninh Binh - Hanoi
Moc Chau, a peaceful and beautiful plateau, about 200km from Hanoi attracts visitors by its...
Price: $0
4 days
Northern Vietnam Homestay Tour
Itinerary: Danang - Hoian ancient town - Cham Island - Danang
Experience Hoian by another way with the living at the local house. When walking along the ancient...
Price: $0
4 days
Hoian Vietnam Homestay Tour
Call to book
(+84) 3 87 86 68 52
All booking covered by our Best Policy From Far East Tour.
Complete Vietnam homestay tours with accommodations, English tour guides, private bus with A/C, entrance fee.
Prices Include 10% VAT, 5% service charge, all meals.
Itinerrary always flexible as your requested.
Read more about the fact homestay in Vietnam.