Explore fascinating Tay Nguyen with gong culture and unique nature
If you have a chance to set foot in the Central Highlands, travelers do not forget to conquer the junction of Indochina, contemplate stars at night in Mang Den or watch gong performance.

Da Lat is known as one of the new destinations which are extremely popular in Central Vietnam and considered as a miniature of Europe. But few tourists know about Tay Nguyen (Western Highlands/ Central Highlands), Lam Dong with the long-run highland area and many amazing things. Far East Tour shares with you 8 things to make your journey to explore the central Viet Nam more enjoyable and memorable.
Visiting "Pleiku eyes"
Great Lake (Lake T'Nung) is the most poetic natural lake in Highlands. This lake is very large and was formed from a volcanic crater. People compare Great Lake as the eyes of the Gia Lai and Pleiku residents. Standing on the shore and overlooking far away, you will find a vast blue sea. The lake is located on mountain, so when visitors stand on the bank, the wind from the lake and forest will create a cooling sensation. Cycling across the forests is the way that you should do to discover the mysterious beauty of that "Pleiku eyes".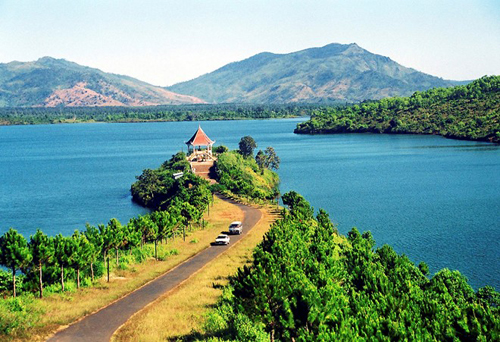 Great Lake beauty
View a gong show
Space of Gong Culture is recognized as Intangible Cultural Heritage of ethnic groups in the Central Highlands. Gongs are musical instrument made of copper alloy, may be mixed with gold, silver or black copper. All yearly festivals, from birthday of a year-old baby to moving tombs ceremony, water trough worshiping, new rice celebration, closing repository ceremony, killing buffalo ceremony... must also use gong sound to connect people in the same community.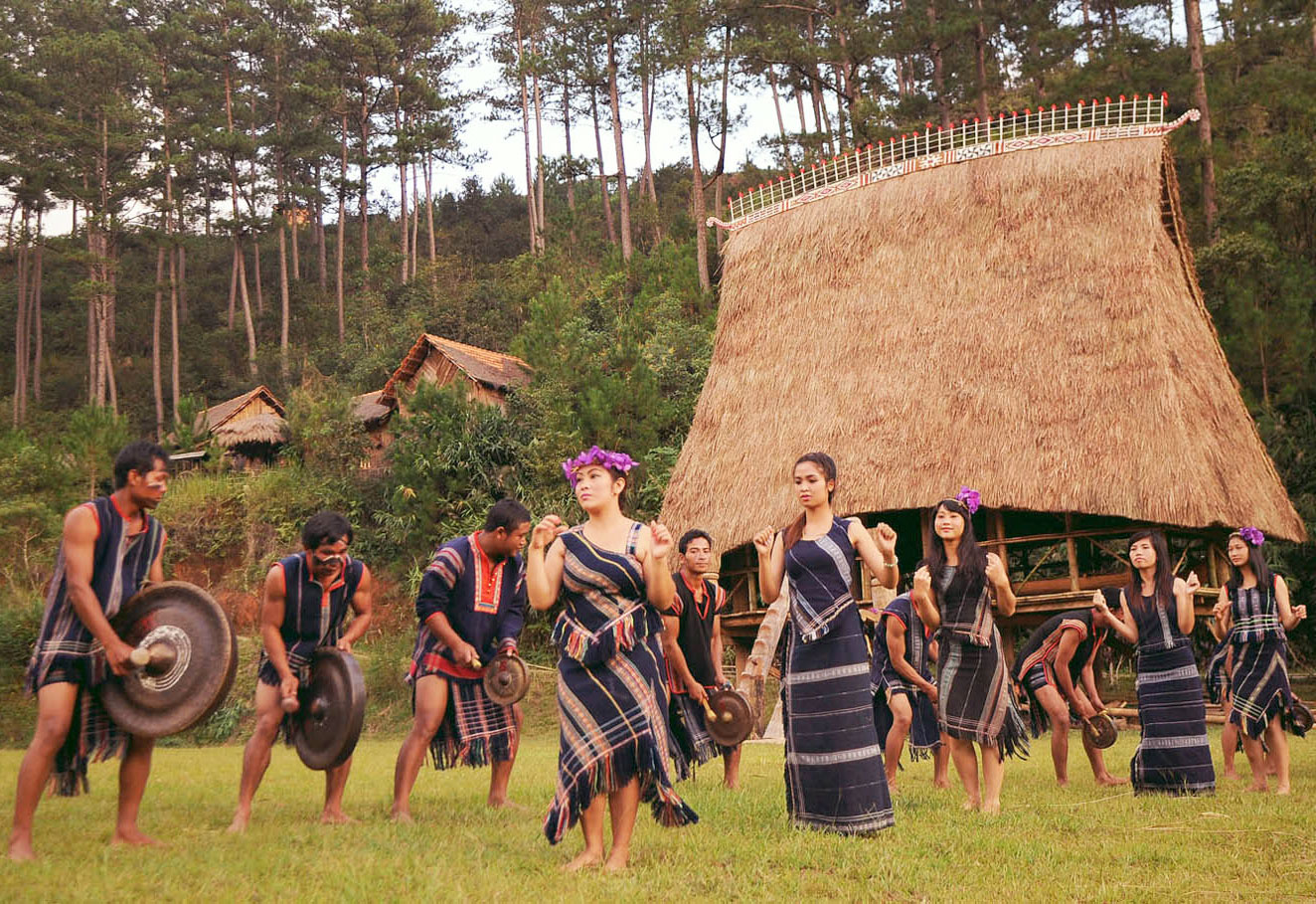 Tay Nguyen - the Vietnamese Highland Center is famous with the culture of gong
Enjoy coffee at "coffee metropolis"
Ban Me Thuot city is considered as "coffee capital" of Vietnam long time ago. Coming here, you can not only watch untouched green coffee plantations, but also enjoy the most delicious coffee cups. Drinking a coffee glass in Trung Nguyen coffee village, in a rainy afternoon, it may be the most memorable cup of coffee you have ever enjoyed.
Watching stars at night in Mang Den
Mang Den is located at an altitude of about 1,200 meters above sea level, belonged to Kon Plong district, Kon Tum province. This is regarded as separating strip between Truong Son Dong and Truong Son Tay. Climate is cool throughout the year, temperature is usually below 22 degrees C. There are primary forests surrounding and vast ancient pine forests located along Highway No.24. In addition, there are many lakes, waterfalls, streams and Beautiful sights in Mang Den. Specifically, Mang Den is famous for one of the most beautiful places to watch stars in Vietnam. If you come here in dry weather and cloudy sky, let choose a grass or airy balcony to sink into romantic moments under a sky full of stars.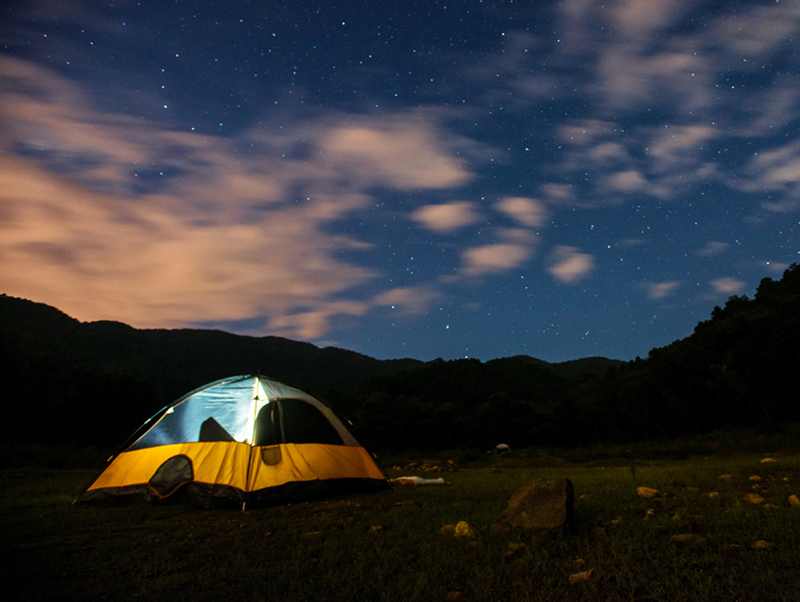 Try to camping in Mang Den to contemplate a full of stars
Conquering the junction of Indochina
Bo Y border gate where a rooster sings all three countries together can hear, is a can-not-be-ignored place if you have an opportunity to Highlands. It is a junction border between Vietnam - Laos - Cambodia, this is an important milestone territory of the country. There are many roads and vehicles to reach Bo Y commune, Ngoc Hoi district, Kon Tum province. If you are from the North, you can catch a flight to Buon Ma Thuot (Dak Lak) and continue looking a car to come to Ngoc Hoi. Additionally, there are a lot of passenger cars run from Ho Chi Minh City, or the province along National Highway 1A as Quang Binh, Quang Ngai ... to Kontum.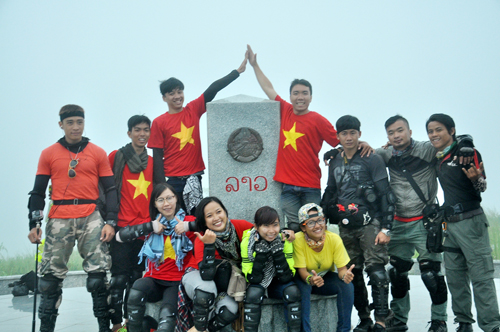 Many young people travel to Central Highlands to fulfill the dream of conquering Indochina's junction.

After visiting Bo Y international border gate, following the path over 10 km of winding road passes around hills, from here to climb the stairs to reach the granite milestone that you've set foot on the junction of Indochina. Milestone is located on a mountain with an elevation of over 1,000 meters above sea level, enroll three countries' name.
Riding elephants in Yok Don National Park
Yok Don National Park is an attractive eco-tourism destination to many domestic and foreign tourists. It is located in Krong Na commune, Buon Don District and far 40 km from Buon Ma Thuot to the Northwest. Tourists come here to enjoy all characterized ecotourism kinds such as riding elephant, walking and riding mountain bike in primeval forests. Especially at night, you can go to see the wild animals, in daytime you can take a canoe trip on the romantic Serepok River. Besides, visiting villages or enjoying specialty of wine with attractive cuisine of the Central Highlands peoples is also a good idea.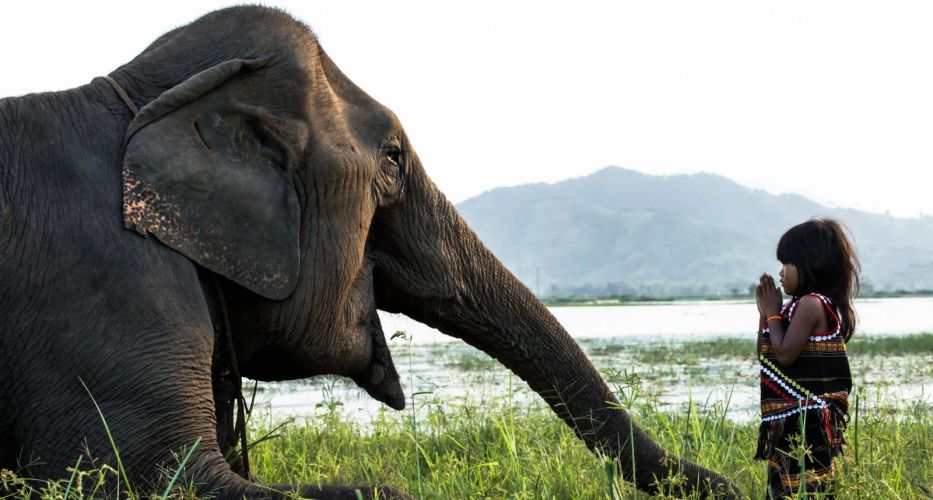 Elephant is very friendly to human in Tay Nguyen
Visit majestic Dray Sap waterfall
Dray Sap waterfall or Husband waterfall has s a surface area spanning over 500 meters, almost 20 meters high and it is divided into three parts: upper, middle and lower. At the beginning of the rainy season every year, water flow of waterfall is roaring pouring, creates white water foam, so Ede people call it Smoke-cloud Fall. Its terrain is situated within an area of many caves, forest trees, tangled vines, loud sound at four surface, plus with the winding road up to waterfall which is rugged with many mossy stones. They make here to become a famous scenic spot of Vietnam.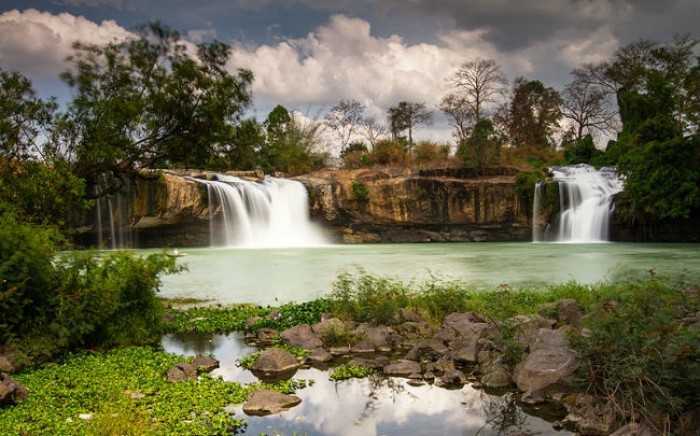 Dray Sap waterfall is one of the most breathtaking scenes in Lam Dong
Exploring Highlands in flowering seasons
December is an ideal time for tourists to Highlands because many festivals will take place and the season blooming of yellow wild sunflowers on basalt land. In early January, the panorama of Highlands transforms within leaf color of rubber forests. Contemplating losing leaves scenes of rubber trees, you will find Highlands appearing very different. In March, the cultivation of coffee flowers begin blooming in white when spring comes. Each flower season usually blooms in 2-3 stages until late spring.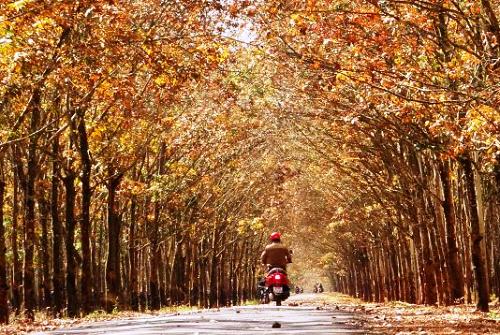 Charm beauty of losing leaves rubber forest in Gia Lai.
Take a Look at Our
featured tours
Call to book
(+84) 3 87 86 68 52