Exploring Chay River and Dark Cave in Quang Binh
If you like adventure travel, Chay River and Toi Cave (located in the system of Phong Nha - Ke Bang National Park) will be the appropriate destination for you to explore and experience.

Blue clean water emerged with forests around and majestic limestone rapids that creating one beautiful scenery of Chay River. Coming here, tourists who like adventurous feeling can jump down from the zipline (a form of swing line) to drop into the cool water or participate in underwater games as well as row kayak to admire the romantic scenery.

Sailing follow Chay River about 5 kilometers, you will arrive Toi Cave. The flows of stalactites overflowing two sides bring the impressive scenery in Toi Cave. Thanks to being located nearby Chay River and high humidity, stalactites in Toi Cave covered by a large amount of green moss create a fanciful space. Entering the cave, darkness covered all the corners makes movement inside is more spectacular.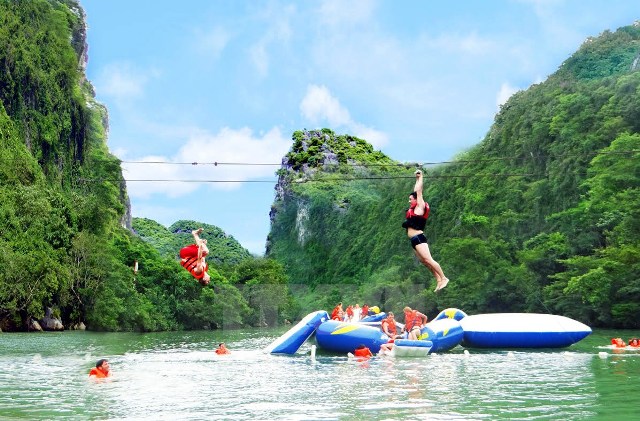 Experencing adventurous feeling when taking a zip-line to Toi Cave

To exploring Toi Cave, you should prepare a headed flashlight to contemplate the stalactites in cave, fossils of insects and mollusk clinging on limestone cliffs. Moving about 1 kilometer, a narrow winding slit full of muddy will appear. Here, you will experience moments of extreme excitement when slipping on the rocky slopes with thick layer of mud (such as slip-bridge of children) then dropping into a deep slush pit submerged your waist to soak for relaxing. Mineral mud in Toi Cave is very pure and beneficial to health because the underground river in the heart of Toi Cave flows into Chay River, it brings huge amounts of mud which is abrasive and refined by the limestone.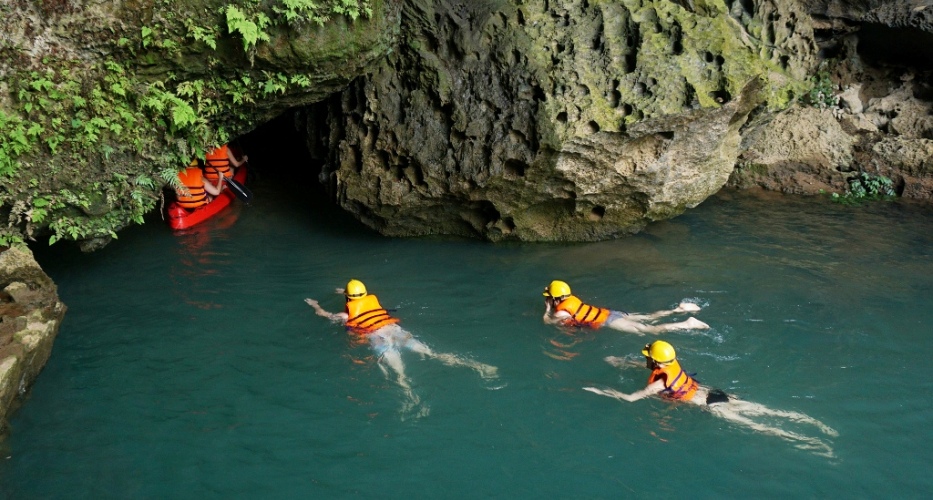 To enter Toi Cave, you can swim or row kayak.

According to tour-guide Tran Nhat Long, the journey to conquer Song Chay – Toi cave is for people who have good physical strength to be able to discover the wonders of nature. However, if you do not want to participate in adventurous activities, you still can have fun at Chay River area, outside Toi Cave with hilarious underwater sport-activities.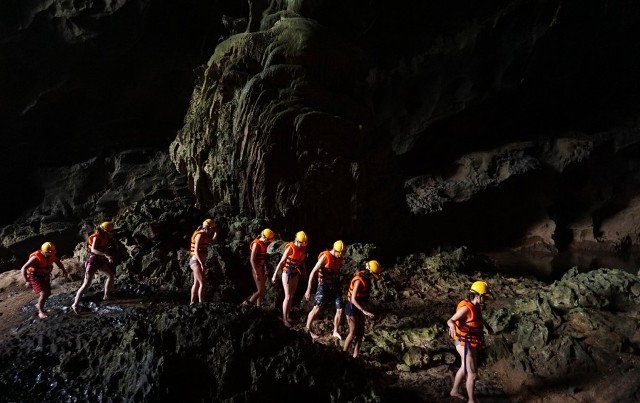 Movement in Toi Cave brings ventured feeling.
If you have no experience in backpacking, to ensure safety, you should sign up a package tour. At present, there are some tourism units organizing itinerary to conquer Chay River tour - Toi Cave. In this journey, tourists can also visit Vung Chua to incense General Vo Nguyen Giap tomb and discover one more cave - Paradise Cave. Prices of this tour is fluctuated from about $300/person.
Ultimate Travel Guide to Dark Cave
1 / Bring sunscreen: you should remember to wear sunscreen to protect your skin!
2 / Bring swimwear, towels: must have it!
3 / Bring dry clothes: After extracting 100% silk, you will get wet and have dry clothes instead
4 / Remember to carry a waterproof bag to protect the phone.
5 / If you want to record videos while sliding zipline and explore Dark Cave, you need to bring a gopro or selfie stick.
6 / You should have light meal before starting because the game consumes quite a lot of energy will make you feel hungry very quickly.
7 / Rest assured that even though it is a thrilling game, it is absolutely safe. Don't worry if you don't know how to swim, you can join this experience.
8 / Zipline, discover Dark Cave, Song Chay game with games just feeling adventurous but actually not dangerous at all.
9 / Not for children under 14 years of age, pregnant women, people with cardiovascular disease, high blood pressure ...
10 / See weather in Quang Binh before traveling
Take a Look at Our
featured tours
related destinations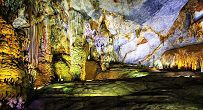 Call to book
(+84) 3 87 86 68 52