Paradise Cave - the Mysterious Cave of Phong Nha - Ke Bang
Known as "a palace on Earth", Thien Duong Cave (Paradise Cave) is one of the most magnificent and magical wonders in the world. It is nestled deeply in the heart of Phong Nha- Ke Bang national park, a type of ancient Krast terrain was formed far from today about 350 to 400 million years.

Thien Duong cave is located at Kilometer 16th, far from the West branch edge of Ho Chi Minh Trail about 4 kilometers, belonged to Son Trach Commune, Quang Binh Province. This cave is alo far from Dong Hoi city's center about 70 kilometers to the Northwest and about 25 kilometers from Phong Nha cave on the journey of Truong Son Road West branch to the North, movement is very convenient.

In 2005, a local people accidentally discovered a valuable cave located inside Phong Nha - Ke Bang National Park. Shortly thereafter, British Caving Association under the chairmanship of Dr Howawd Limbert immediately organized a cave exploring group and announced many unexpected results. According the cognizance of this group, this is the longest dry cave in Asia, especially the system of stalagmites and stalactites here own shimmering, magical, unimaginable beauty.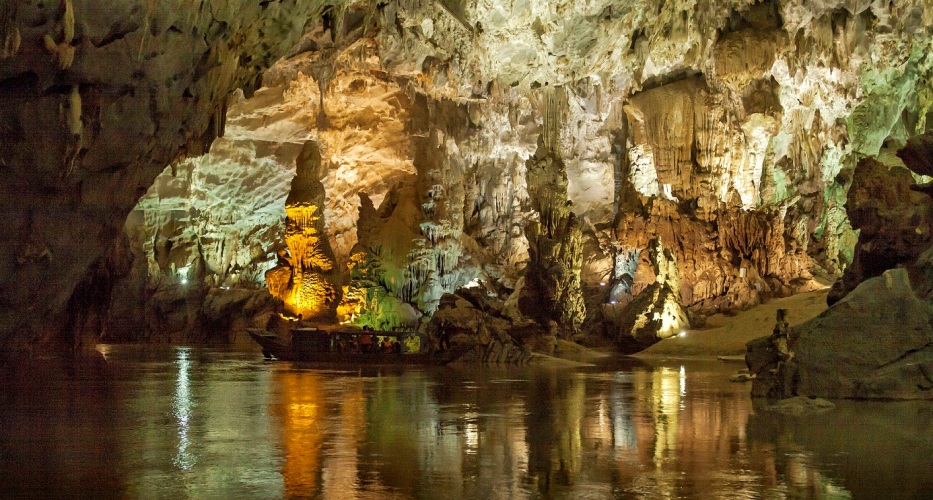 Thien Duong Cave (Paradise Cave) owns an incredible beauty
Thien Duong cave is around 31.4 kilometers in length, from 30 meters to 100 meters in width. The widest segment is up to 150 meters. The height from the bottom up to the ceiling of this cave is about 60-80 meters. Thien Duong cave is considered as the Asia's longest dry cave and also one of the most spectacular caves surveyed by British caving group. With its magnificent and fanciful architecture, calling it "paradise on earth" is completely correct.

The cave's entrance gate is so small that only one by one can down the bottom. Thien Duong cave is formed very spectacularly by being laid beneath hundreds of meters in high stone blocks. A long slope which directs down the bottom is about 15 meters and sophisticatedly created with numerous of big round stalactite beads. Many traces of collapse and clutter stalactite columns appear on two sides of this slope that look like just being undergone a tectonic phase. Magnificent and charming beauty of Thien Duong cave is revealed clearly when the light shines on a boundless of miraculous stalactites. The entrance gate is narrow but the cave's inside is over 200 meters in width, the ceiling is very immense and soaring.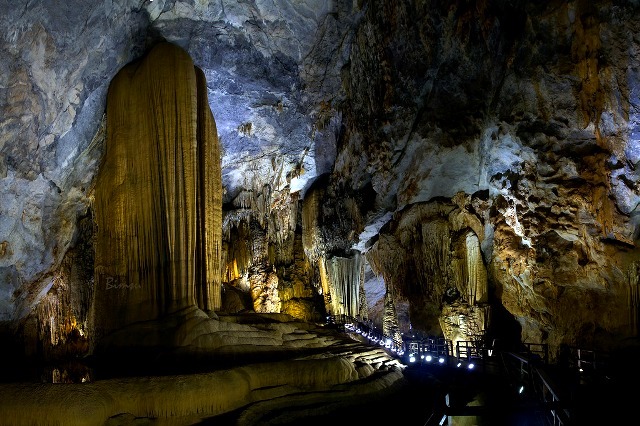 A block of stalactites shaped the form similar to rice-terraces
Especially the inside contains several images similar to cultural icons of Viet Nam regions. Going more deeply inside of Thien Duong, the rocky blocks are gently sloped and closed together that formed a lot of long and flexible stone stairs as a terrace field. At the middle, there are numerous of squares with symbolic meaning for water-rice civilization and stalactites columns with typical meaning for Champa pyramid.

Unique point is "The Moon's palace" where a curtain shape of the maiden appeared by a lot of dropping stalactites. Look from afar, tourists can easily find it same as fairies converging with the populations of Buddha Amitabha Statue. The most impressive is the Lotus Tower (Thap Lien Hoa in Vietnamese) with a special shape in the eyes of everyone. At every angle, it will be a different pretty shape. Actually stalactite was created by falling water splashing with no rules made the mystic beauty of Thien Duong cave.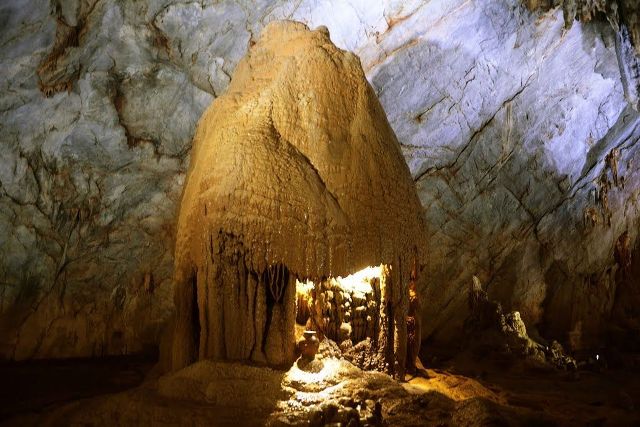 It looks like the communal house in Tay Nguyen
Being compared with Phong Nha cave, stalactites in Thien Duong have much more different shapes. Sometimes, visitors will catch a newly formed slopes of stalactites which are still wet with steam and broken sounds can be heard when they step up. Some crowd of stalactites which are enlightened up by flashlight will light up as bullion, flashing as numerous of starlight at night. Almost of the platform is soft land, wide and relatively flat. The temperature inside Thien Duong cave is only about 20-21 degrees.
Best time to visit Phong Nha
Quang Binh belongs to the tropical monsoon climate region with two distinct seasons:
+ Dry season (from April to August): The temperature outside is 36-37 ° C, the temperature in the cave is always at 20-21 °C, very cool and comfortable. This is a quite favorable time to participate in caves exploring in the heart of Phong Nha - Ke Bang world heritage site.
+ Rainy season (from September to March of the following year): The characteristics of the northeast monsoon, the average rainfall from 2,000mm - 2,300mm / year. In the high water season, the rising Son river will obscure the entrance of the cave, tourist boats cannot enter here, so Phong Nha Cave cannot be visited. Dry caves: Tien Son cave and Thien Duong cave still visit normally. Travel experience Phong Nha - Ke Bang, Quang Binh, please note that you need to schedule as well as costumes and prepare appropriate tools and clothes.
Therefore, the best time to visit Phong Nha - Ke Bang is from April to August because the weather is quite favorable for sightseeing
Take a Look at Our
featured tours
related destinations
Call to book
(+84) 3 87 86 68 52