Exploring Unique White and Red Sand Dunes in Mui Ne
Surely you have heard about Mui Ne Sand Dune. Is there a magnificent natural wonder awaits you or is it just another overrated tourist destination? The article below will explain to you the good sides and bad sides in visiting the sand dunes in Mui Ne.

Mui Ne is located in the South of Vietnam, about 200 kilometers to the East of Saigon. It was once a small and peaceful fishing village, now has become a crowded beach which attracts lots of tourists, both locals and foreigners from Ho Chi Minh City, Russia, Korea and China.

Mui Ne is famous for its sand dunes. Along with the magical Fairy Stream, Mui Ne sand dunes really have become a must-go place when travelling to the south of Vietnam.

The Mui Ne sand dunes consist two different sections: the white sand dunes and the red sand dunes. Obviously, the two sections were named after the colors of the sand.

1. White Sand Dunes
Taking a walk on those enormous White Sand Dunes in Mui Ne surely is the most exciting thing to do during your time in Vietnam, besides diving into the cool and clean sea water in the beaches. The sand dunes have become the main attraction and are one of a kind wonder you can rarely see around the world. The sand dunes cover an area of 7 ha, in region of two different provinces Binh Thuan and Ninh Thuan. Only in Mui Ne can people see the biggest and the most beautiful sand dunes. It is located at about 20 kilometers away to the northeast of Phan Thiet City. Most people don't know, that the sand dunes include a variety of colors from white, red, yellow or even pink. Mui Ne is the best place to go to if you are into playing with sand. There is literally sand everywhere, from beaches, sandy springs to the sand dunes.

White Sand Dune in Mui Ne
As said before, the White Sand Dunes are unique, cannot be found anywhere in Vietnam. Those sand dunes were shaped by the old iron mines that had been around for centuries. The lustrous sand was blown and formed rapidly due to the strong winds often go through the place. The name White Sand Dunes was given by the locals because of the bright color of the sand. In addition, the sand hills cover an area much bigger than Mui Ne, making it felt like walking on an endless desert each time you visit the dunes. Come with plenty of shapes and sizes, the sand dunes have produced one of the most intriguing scenes to be seen by human eyes. Some people called them Bau Trang (White Lake), 62 kilometers from Phan Thiet City and about 30 kilometers travelling from Mui Ne. Located in Hong Lam hamlet, Hoa Thang commune, which is the area that has strong winds during monsoon season. Those winds will create many magnificent displays, giving it the nickname of "flying" sand hills.

Bau Trang area includes three lakes with the following names: Bau Ong (Gentleman Lake), Bau Ba (Lady Lake) and Bau Xoai (Mango Lake). The Lady Lakes is the largest lake, meanwhile Bau Xoai is the smallest of the three. There is also a tiny lake in between Bau Ong and Bau Ba, calledn Bau Sen (Lotus Lake). It is a small and chilled oasis, in contrast to the sweating heat of the sand dunes. The lake is also a great place for getting clean and refreshing water, but that is not what it is famous for. Tourists come here in the summers will be able to witness countless lotuses blooming in the lake, which makes the beautiful sand dunes even more colorful.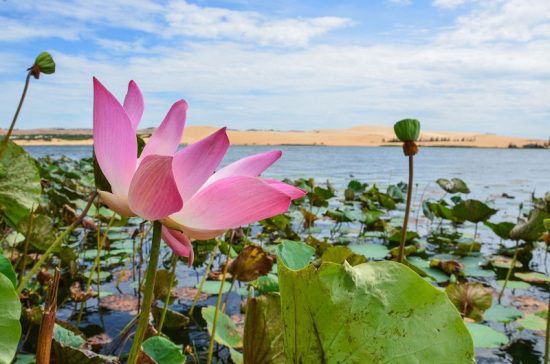 Bau Sen (lotus lake) appears like a small oasis in the middle of the desert.
An interesting activity while visiting Mui Ne is hiring a 4-wheel ATV to drive up and down the hills. The service is brought to the sport-loving hearts and certainly not an experience that anyone should miss. The satisfaction of riding on those ATVs to conquer the sand dunes is just incredible. Small races are often thrown by the tourists on their own in order to bring some competitive senses to the table. Driving all by yourself through the hills to enjoy the dramatic scenery and capture the finest moments is definitely the highlight of the ride. The endless roads will make you truly blend in with the nature.

Although the place looks absolutely breathtaking and is receiving large attention from visitors both locals and foreign, the service quality is still very far from being good enough, probably due to the fact that the sand dunes are pretty far away from the beaches. However, that didn't deny the truth that the White Sand Dunes is a wonderful tourist destination, particularly for people who are into photography. Apart from the dramatic sand hills, the place even includes two freshwater lakes and a small oasis, making it even more charming. Visitors will find it very interesting seeing a number of animals like fish, insects, birds or different faunas, most popular are the white lotuses, and even the special carnivorous plants that only live in sandy conditions. You can also try fishing with the locals on the side of Bau Ong, where people rarely see the sight of a tourist. When you make it to Mui Ne, the magnificent white sand dunes are the spots that you must not skip. Do not miss the opportunity to take a trip that you will remember for a long time.
2. Red Sand Dunes
In Binh Thuan, we have a Red Sand Dunes that expanse along the sand strip. All year round, under the influence of monsoon seasons, a red pink color has been made and painted to become a beautiful picture of scenery in here. Not only domestic tourists but also international tourists, they have all attracted on Mui Ne red sand dunes.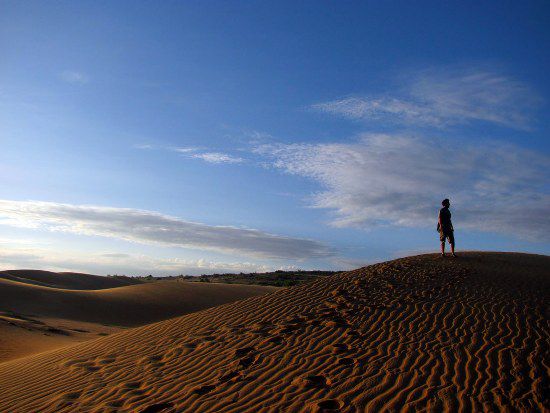 The Red Sand Dune is named after its color.

Mui Ne – Phan Thiet is a very famous destination with stunning beaches turquoise water and azure sky near luxury resorts, a huge sand area stretching to Ninh Thuan. Nature give a beautiful scenery in these sand dunes. Mui Ne Red Sand Dunes is staying on the North of Mui Ne Village, from Phan Thiet City to go there takes about 20 kilometers. Besides the extraordinary destination such as White Sand Dunes, Red Sand Dunes make tourist love for its convenient resorts and beautiful beach view.

When you try to hike in these sand dunes, you will imagine about giant deserts in the Middle East or Africa. Surround this area, many children are enjoying such entertainment as sand sliding, and photographers are trying to take some best pictures or record all the glorious moments of nature. Your one of the most unforgettable memories in Mui Ne will be gain from so many experiences in Red Sun Dunes.

A magnificent scene will appear in front of your eyes from these sand dunes. The top layer of sand will be thrown by flurries which will create a lot of unique and strange shapes.

Tourists will have an opportunity to catch sight of this "natural wonder" which changes day by day in the harmony with gorgeous sunlight. Depending on where the light shines on, the color of sand changes frequently from yellow to white, from pink to red.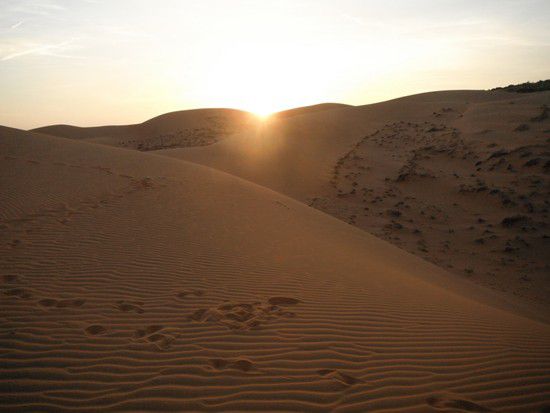 The best time to capture stunning pictures is the early sunrise.
Because this is one of the most beautiful sand dunes in Mui Ne, tourists will choose these red sand hills to be an ideal place for them to explore the incredible of the Earth. There are many activities that you can decide to join to relax in this sand hills. You can put your bare foot into the sand dunes, gather with friends and relatives and set eyes on the stunning beauty of Red Sand Dunes. Besides, for visitors who in younger ages, they can choose to stroll, take photos and have a memorable time with their friend in these perfect and wonderful sand dunes. Photographers and artists are being attracted by the gorgeous sand hills. Inspired by this wonderful destination, many artworks have been created, which gives birth second-to-none masterpieces in Binh Thuan. The sun and wind have affected the sand's color in red sand hills and make them change frequently. If you have just come to this place, even once, you will love to enjoy the incredible changes of the dunes from afar.

Those red sand dunes have a more eye-catching color, however, they are much less fascinating. The places might be more enjoyable to families with young kids because they will have the chance to try sliding down those red dunes on plastic boards. What can be more amazing than climbing to the top of the hill and sitting on a thin plank to slide down freely to the hill's foot? These activities will make tourists have a feeling as they were flying.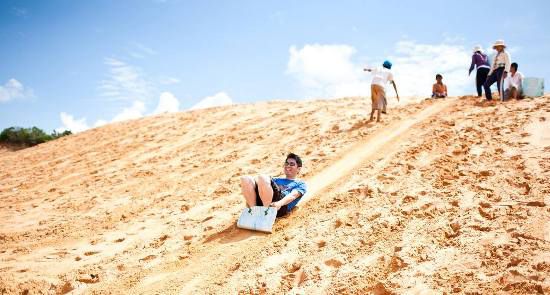 Sliding down the red sand hill is the activity that you cannot miss.
Nowadays, you can find nowhere that have the most magical paradise like Red Sand Dunes. A running race is held here in every spring. Hundreds of young people run for hours to show their tenacity, willpower and human strength during the game. Besides, you can join in the motor racing contest. In Mui Ne, near the sand dunes, many luxuries five stars resort and golf course have been built. Moreover, you can take a trip to visit Phan Thiet Red Mountain in the northeast of Red Sand Dunes, or Mui Ne in the southwest. Tourists will have so many unforgettable moments when joining in these exciting games and activities in Red Sand Dunes.
3. Going alone by yourselves in a private tour is a good idea
Most people would pick the option of travelling in groups, normally set up by the crew in their hotels in Mui Ne, so did us. But it turned out that, the trip would have been much more fun if we decided against going on the planned tour.

In order to have the most enjoyable time during your stay in Mui Ne, it's best not to go on a jeep in groups with other tourists. When you do, there is a 100% chance that you will be entirely depend on someone's timeline (obviously not you) and you won't be free to do anything, either waiting for other passengers or being rushed by fellow travelers (we got both).

Don't hesitate and call us now for a custom-made tour which is desired just for you and your family or friends!
Hotline : (+84) 917 620 980
Email : sales@fareastour.com.vn


related destinations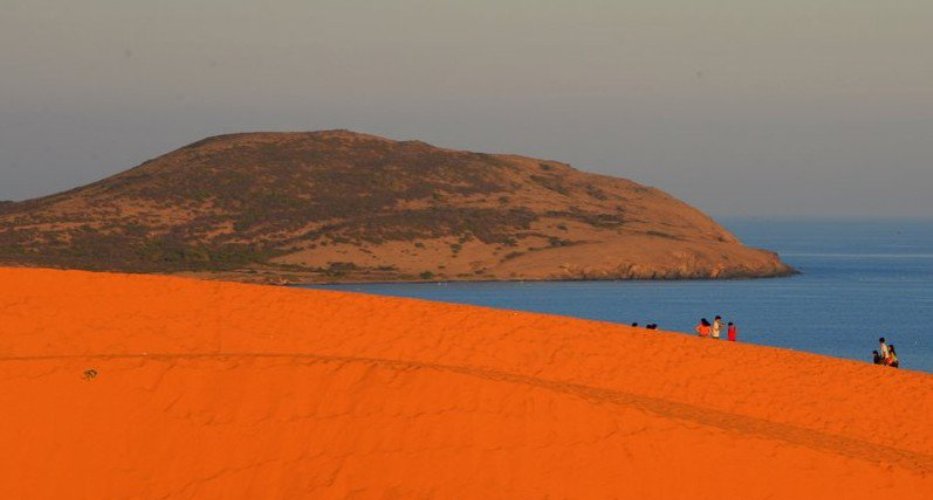 Call to book
(+84) 3 87 86 68 52