The Best Sandwich in the World - The Vietnamese "Banh Mi"
Many foreigners do not think that Vietnamese "banh mi" need to be listed as a member of the sandwich family. They call this type of sandwich with the original Vietnamese name "Bahn-Mee" to fully describe its own unique.

1. Saigon
In a long time, Saigon is believed that this city is the birthplace of the famous Vietnamese sandwich. In the 60s and 70s of the last century, the large number of French lived here, introduced and popularized the recipe of their baguette. Then the Vietnamese have upgraded the Baguette to make the crumb less density and have a crunchier crust, the length is more suitable to be eaten. Combined with ingredients of meat and vegetables, Saigon's sandwich has become a familiar dish across the country. However, to be honest, there is no other place which has the sandwich to be diversified in type and unique in the recipe like in Saigon's – the "motherland".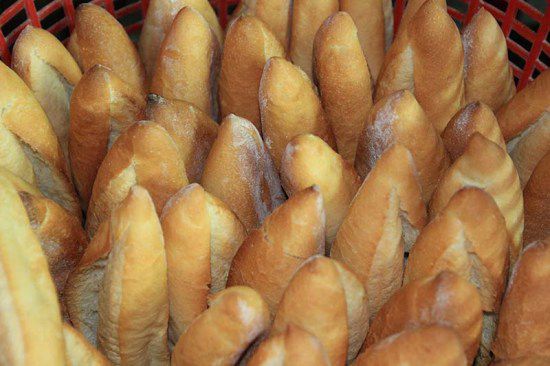 Look at these crispy loafs of bread

Standing on the top of this list will always be the traditional sandwich, which is including pate, butter, ham, pork roll, pickle, cucumber, and herbs. What make this sandwich so attractive comes from the material, which has been "Vietnamization" to suit the taste of the people. Instead of using greasy animal butter, sandwich use butter from vegetable seeds. Moreover, the crunchy and crispy from the pickles will create a perfect balance with the fatty meat.

People have upgraded this simple bread by adding other ingredients and turn it into something more delicious.

The star is the special bread loaf – crispy outside but so soft inside. People of Saigon have transformed this thing into a variety of delicious sandwiches. The sandwich with pork skin is a common breakfast but it is enough to conquer all anyone who lives in Saigon. Although pork skin is not as expensive as meat, it is still full of flavor thanks to fish sauce, powder, garlic and onion along with special soy sauce of each bakery. It is a great option to save your stomach during classes or working time.

If street food stalls often use the pork skin to be the filling of the sandwich, and most of the food stores also use of the available ingredients to make. Since then, Saigoneses continue to create many interesting sandwich recipes. The Vietnamese juicy and crispy meatball sandwich, the crunchy roasted pork sandwich or the tasty "pha lau" sandwich are typical examples of this variety.
2. Da Lat
The Vietnamese meatball sandwich is also available in many places, but perhaps, the one in Da Lat still has its own characteristics that make people so impressive.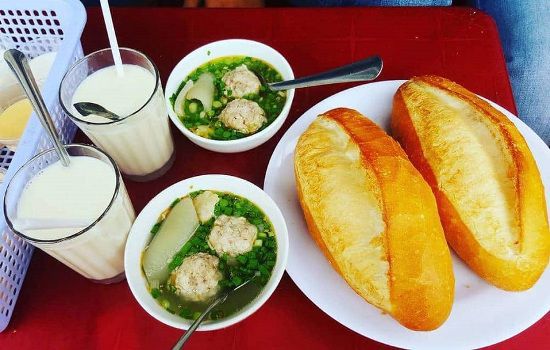 Enjoy a cool morning in Da Lat with a hot bowl of Xiu Mai

Each set of meatball serves in a small deep bowl, fills with soup, and inside there are meatballs, pork skin and scallions sprinkled on top. It would be perfect if having this dish in the cold weather of Da Lat to enjoy the sweetness and spiciness of chili in the broth, combined with freshly baked bread.
3. Nha Trang
When going to the coastal region, the Nha Trang's version sandwich is changed a little and has its own local features. Nha Trang bread is famous for its butter-free recipe, crunchier than original Saigon bread. No smell of butter, no creamy taste, Nha Trang sandwich can be eaten separately or dip in condensed milk. This type of sandwich is also very versatile with all kinds of filling and dipping.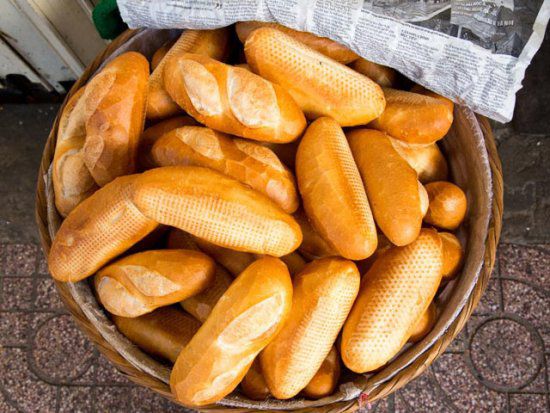 Nha Trang bread is famous for its butter-free recipe

The most famous type must be grilled chopped fish sandwich. The grilled chopped fish made from lean part of basa fish or mackerel that were sliced into small pieces and then fried until it turned into yellow. People usually put it into the bread with a lot of pickles and vegetables. Chili sauce and fresh chili are combined to enhance the warm flavor, reduce the fishy smell and raise up the fragrance. Grilled fish sandwich is not only famous in Nha Trang but also in all over the coastal region, especially in Vung Tau.

Nha Trang sandwich is full with grilled chopped fish

Because of its crispness and thinness, Nha Trang bread is also very popular for dipping into dishes such as beef ragu, braised beef or stomach cook with pepper dish. The crunchy texture of the bread with a little moistness from the dipping sauce have created a perfect combination for your taste. The bread itself has no butter, but it is not bored.
4. Hoi An
Talking about Hoi An, people often think of Phuong sandwich (Banh Mi Phuong). It seems that this address has become even popular when a lot of world-famous chiefs have come here to eat and give to this place non-stop praises. We can tell a lot of name among them such as Anthony Bourdain, Gordon Ramsay.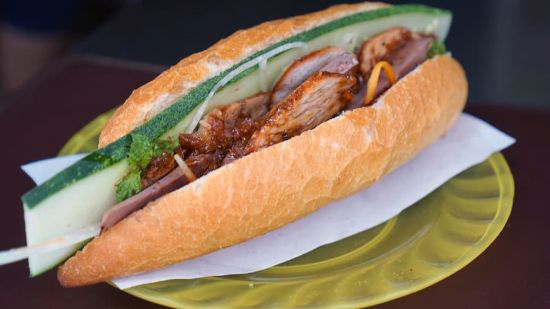 Many famous chiefs have felt in love with the flavor of Hoi An's Banh Mi

Compared with the other bread brands from many different places, the special thing of Banh Mi Phuong is shown in 3 things: bread crust, sauce, and vegetable. All of these things combine together very harmoniously and reasonably. If you pay a closer attention, you will notice that the bread crust in here is always crispier and harder than bread in Hanoi or Saigon. This is necessary because it will help the bread not being mushy when being basted with 3 special sauces. Besides, people are also impressed with Banh Mi Phuong because there are so many vegetables inside the sandwich: from onion, cilantro, to basil and typical vegetable of Hoi An herb.
5. Hanoi
The top sandwich in Hanoi must include the crispy hot one, dedicate to cold days. Other specialties such as grilled nem, grilled sweet potatoes, fried nem are all used by Hanoi people to create "no-copycat" recipes.

Young people, who obsess with their passion for eating, have brought fried fermented pork sausage sandwich to be popular from North to South. An interesting combination of traditional fried fermented pork sausage with French fried is put into one hot and crispy bread. The fried fermented pork sausage is loved by many local generations of Hanoian, but now it has been upgraded by mixing with the taste of French fried and sauce. It sounds like they will not match together, but after the first bite, you will feel all the flavors of fleshy, fat, crunchy that blend really well with each other.

Fried fermented pork sausage sandwich is a new type of sandwich

Speaking about the unique combination of Hanoi sandwich, the one we cannot ignore is the "Banh Mi Chao" ("Banh Mi" means bread and "Chao" means pan). The reason why this dish has such a name because the meals would be served on an iron pan which is always hot and fill with pate, steak, omelet and a crunchy breads loaf. Inspired by Western-style steaks, the street food stalls in Hanoi did not focus on the expensive beef but make the bread to be the "star" of the dish. They serve the "Banh Mi Chao" to you when it's still hot like it has just been taken it out from the oven.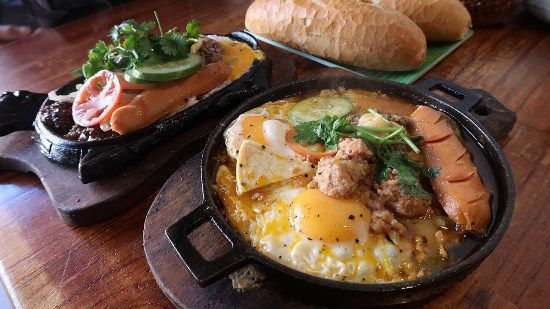 Banh Mi Chao is the perfect option for a cold day
6. Hai Phong
Coming to Hai Phong, you will be suggested by the local people for trying the spicy sandwich: a small long shaped bread fill with pate and spicy chili sauce. Perhaps, this is the cheapest sandwich in Vietnam. In the past, it costs only 500 VND each, but now, while other kinds of sandwich rise up to 10.000 VND to 50.000 VND, then a Hai Phong sandwich is still stay about 2.000 – 3.000 VND only.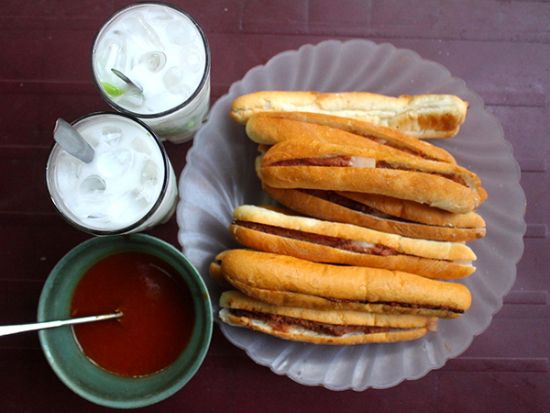 This spicy Hai Phong sandwich

In conclusion, from the long loaf of bread imported from France, the Vietnamese have transformed into a smaller size of sandwich that is more suitable to people diet and their taste. Also, from that beautiful little loaf, each locality continues to transform to create new recipes which put their own characteristics and also culinary origin. The above lists are still incomplete, and the story of Vietnamese sandwiches and its variations across the country will last in a very long time. This simple sandwich is the proof for the flexibility and adaptability of cuisine in Vietnam in particular, and also in all countries and regions in general.
related destinations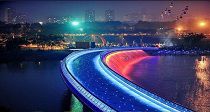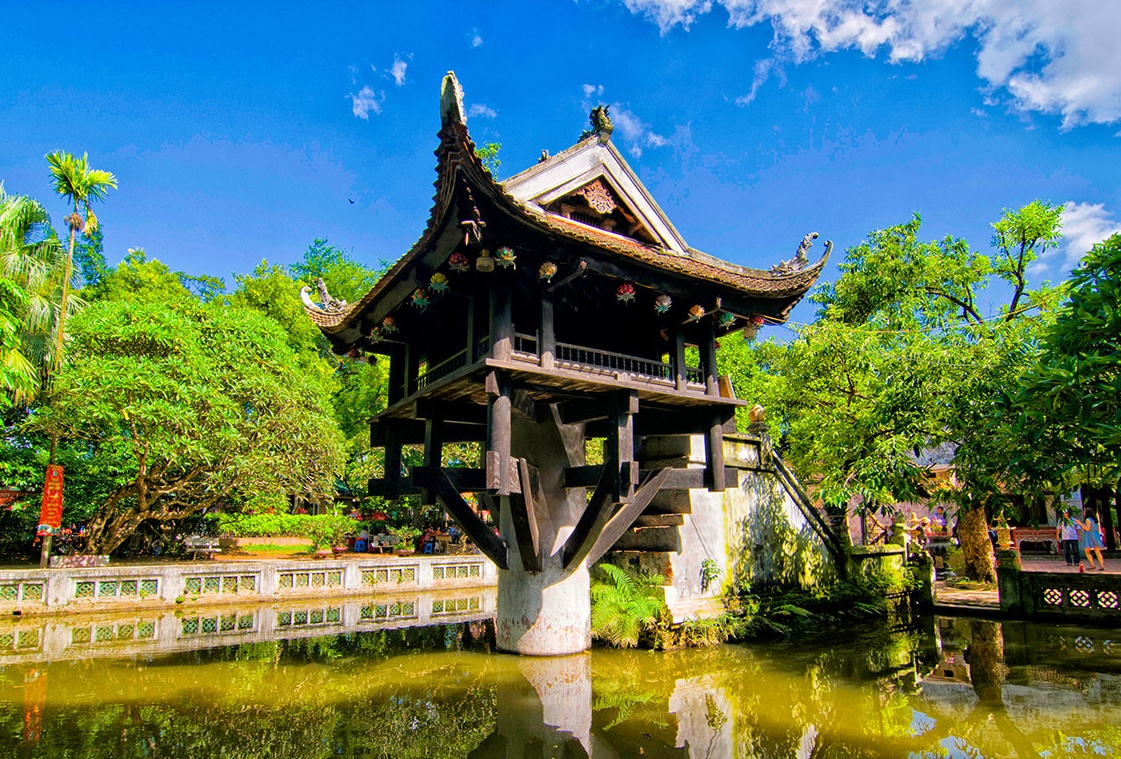 Call to book
(+84) 3 87 86 68 52