Do you know ideal bicycle destinations in Vietnam?
Active travel is a hot trend to make your trips have more fun and healthy. Biking to explore Vietnam is more and more interesting for tourists. If you want to experience the life in Vietnam more slowly, do not ignore top 5 ideal bicycle destinations in Vietnam, including Hanoi, Da Nang, Hoi An, Da Lat and Vung Tau:
1.    Hanoi Capital – City of blend between old and new
In the last few years, the appearance of various colorful bicycles with full of designs has been popular on Hanoi streets, especially spending for the youth. The trend of using bicycles to go to work or go sightseeing in
Hanoi
is attractive to lots of people because of the benefits such as protecting the environment, exercising health, even showing their own style. Foreigners coming to Hanoi also like to rent bicycles, watch streets and enjoy the rustic food on the streets of the capital.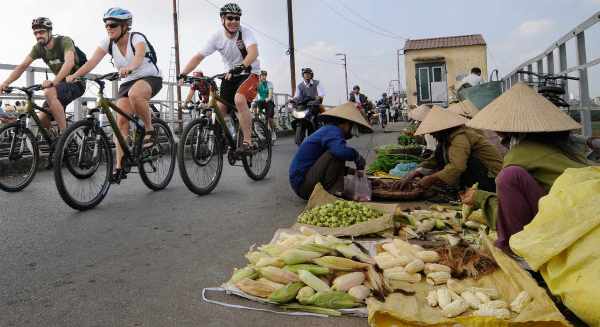 Bicycles appear more and more on the streets of Hanoi. Imagine taken on Long Bien Bridge

The gandy gangs of the capital, particularly Hoan Kiem Lake, Old Town, West Lake, the roads surrounding Ho Chi Minh Mausoleum, Thanh Nien Street, Hoang Hoa Tham Street, Lenin Park ... are the most famous landmarks for cyclists.

Nowadays, Bicycle Rental Service is very popular in Hanoi serving for residents and visitors. It appears on most the areas around the West Lake, Old Quarter, Thanh Nien Street, Hoang Hoa Tham Street that is especially attractive to lots of people  on the weekends. With the price of 80,000 - 100,000 VND / turn, 150,000 - 200,000 VND / day depending on the type of bicycle, you can own an "iron horse" to travel around the streets of Hanoi.
2. Da Nang – New vitality of Vietnam with long beach roads
Known as an eco-friendly city and possessing beautiful coastal lines, Da Nang is also an ideal place for bicycling. From Han River to My Khe Beach, from Han Market to Non Nuoc Village, windy sea lanes are always the favorite places of cyclists.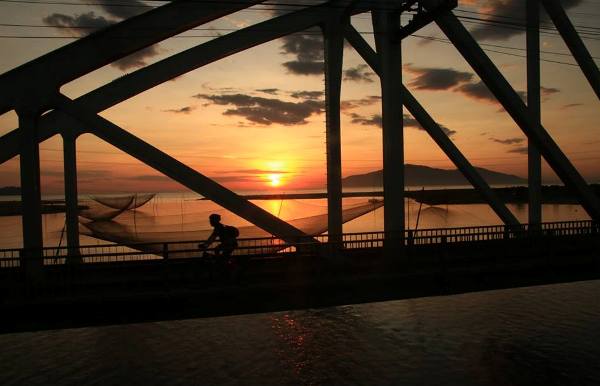 Cross over the interesting bridges of Da Nang.
Nothing is as fun as biking on the Da Nang coastal roads, enjoying the fresh air and enjoying the fresh seafood at the coastal restaurants. Even more, many tourists have selected bicycles as a means to travel to popular destinations of Da Nang such as Son Tra Peninsula (20km from Da Nang), explore My Khe Beach or visit Ngu Hanh Son ...

At present, some travel agencies in Da Nang have quickly explored tours of the city by bicycle, lasting only a day for less than 1 million. Bicycle rental services are also very popular here. Most of the hotels offer this service to visitors.
3. Hoi An – Let's bike among the heritage or authentic countryside
Hoi An is a certain name on the list of ideal destinations for bicycles. In terms of size, the travelling directions of Hoi An city has radius not exceed 10 km, especially from the coastal road to the center of ancient streets connecting An Bang beach, Cua Dai formed triangle shape, each side only more than 5km, so it is ideal for cycling. It is estimated that up to 50% of Hoi An's citizens are women and children who choose bicycles as a means of transportation around the city.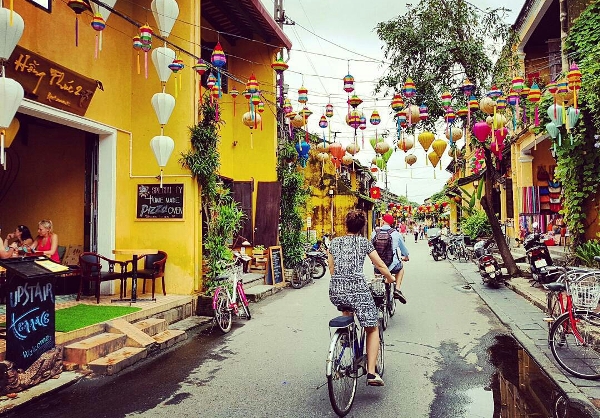 International tourists explore Hoi An old town by bicycle.
In addition to the bike, coming Hoi An, visitor does not want to choose other any means to travel. Biking is a unique way to feel the slow pace of life, peace and ancient beauty of the ancient town recognized by UNESCO as world cultural heritage. Moreover, choosing a bicycle for excursions, visitors can stop at any time to take pictures or buy souvenirs. Many tourists also choose bicycles to travel to the village around the old town to visit such as Thanh Ha pottery village, Cam Thanh village of "learning farmer" or Tra Que vegetable village,
Kim Bong carpentry village
.
Some travel agencies have also built ecological tours by bicycle. However, many visitors coming here would like to rent bicycles by themselves to explore the attractions of Hoi An. Bicycle rental services in Hoi An are also popular with affordable prices.
4. Da Lat – The city of flowers and fog, romance for lovers
Dalat basically is famous as the most romantic city in Vietnam with cool air all year and many romantic sceneries. Besides, most of the attractions in Dalat are within a radius of 10 km from the center, so it does not take too much time for bicycle travel.

It will help visitors feel the fresh air here, immersed in the romantic space of Xuan Huong lake, admiring the flower garden of the city and walking in the Valley of Love ... when choosing bicycles to roam. Travelling around Xuan Huong Lake by bicycle is the great opportunity for many couples to enjoy the peaceful, romantic feeling together.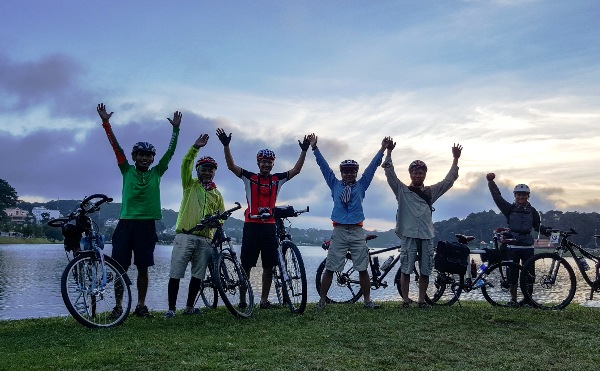 Most visitors coming to Dalat also want to explore the road around Xuan Huong Lake by bicycle.
If you are adventurous and want to try strong feelings, let rent a terrain bike to explore the wild and mysterious of the destinations outside the center of Da Lat city such as Prenn Waterfall, Datanla waterfalls, Cam Ly Waterfall, Cu Lan Village, the highest peak in Dalat – Lang Biang ... More attractions in Da Lat,
click here
.
5. Vung Tau – City of tenderness
Not as noisy as Hanoi or Saigon, nor tranquil, peaceful as Hoi An, Vung Tau always has its own attractions to attract tourists. A clean and beautiful road is the most impression of visitor about Vung Tau. So, it is no wonder that the preferred means of transportation is the bicycle.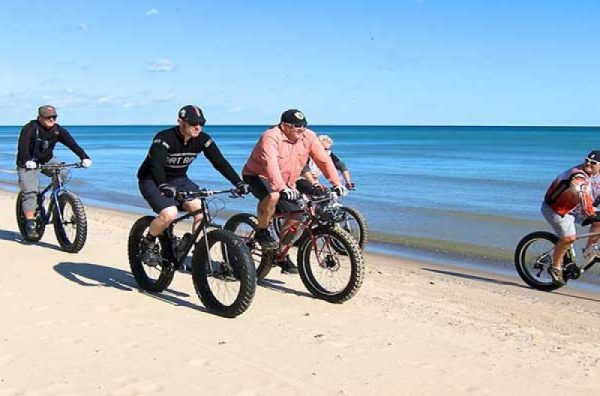 Let's imagine that you are biking on the long beaches of Vung Tau.

Cycling is the most popular choose of visitor coming here to roam on the beautiful coastal road, stop swimming in the front beach, back beach or Yang beach, visit Bao Dai Palace or statue of Lord Giesu on the hill and coffee in the afternoon under the beautiful baldachin flowers and admire sunset falling down...
Take a Look at Our
featured tours
Tour in Hoian Old Town on a Half Day
Itinerary: Japanese Covered Bridge - Tan Ky Ancient House - Phuoc Kien Temple - Phung Hung Ancient House - Temple Kwan
If you are waiting for an exotic destination to wander both day and night, let read more about Hoian Old Town. You certainly recognize that this...
Hanoi Sightseeing by a Bike Tour
Itinerary: The Old Quarter - Ho Chi Minh Mausoleum - Tao Sach Pagoda - Biking Around - Tay Ho Temple - Tran Quoc Pagoda
Hanoi is beloved by travelers all over the World thanks to its lightly charming beauty. You are easily fallen in love with the streets of ancient...
Call to book
(+84) 3 87 86 68 52