Top 12 Vietnam local markets with long-standing existence
For tourists who want to admire the ordinary lives of Vietnamese people, one of the most fascinating spots are Vietnam local markets. As they often open very soon at 3.a.m, it is easy to catch the sight of people bargaining vegetable, meat, fresh fruit and seafood. It is also an ideal place for tourists enjoy Vietnamese cuisine at reasonable price. All the food stands around serve stunning food.

The majority of Vietnam local markets opened very long time ago. Therefore, a large number of stores in towns offers products base of the taste of tourists such as pre-packaged food, handmade items and souvenirs. You should haggle for a cheaper price although it is quite reasonable. The following list will give you the information about markets in Vietnam:
1.    Hoi An Center Market (in Hoi An Old Town)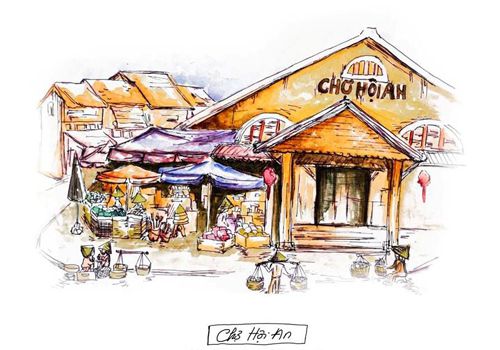 Located in the town that is put in the list of ancient ones recognized by the UNESCO, Hoi An Center Market can be a place for your shopping with real experience. The market which is situated in the bank of Thu Bon River is crowded with the scene of travelers and natives haggling for vegetables, street snacks, spices, fresh fruits and handmade items.
We highly recommend that you come there soon in the morning because it is a good time to watch native fishermen bring fish to this market. Also, you will experience the vivid life when watching buyers bargaining with sellers. Inside the market, you may drop in on the area of Asian textile and silk. You can buy these items with reasonable price made by skilled tailors.
2.    Han Market (Da Nang City)
In Da Nang city, you should not miss out Han Market which is an outstanding spot established in the early 20th century in the period of French colonists. It is in a large junction of 4 streets namely Tran Hung Dao, Tran Phu, Bach Dang and Hung Vuong. You have a chance to seek out countless stands with all local items such as jewel, shirt, accessory or coffee beans. You are suggested to enjoy all tropical fruits here including durian, banana, jackfruit and mango as well as delicacies of this city, for example Ly Son garlic, dried squid, rice cracker and chili sauce.
3.    Hanoi Night Market - Special for Vietnam local markets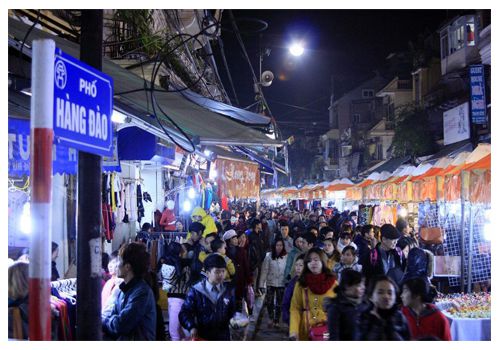 Hanoi Weekend Night Market which is in the north of the Ancient Quarter stretches from Hang Dao to Dong Xuan Market. It impresses people with the continual food stall lines with stunning Vietnamese food. You will have a chance to admire the music performance of Vietnam including quan ho, ca tru and xam on special events like Mid-autumn festival.
In case that you hope to buy mementoes, you should haggle as much as possible because sellers often raise the price up to 25%. Almost all beautiful things are similar in all stands which makes it easier for you to leave and find others with affordable price.
4.    Dong Ba Market (in Hue City)
In Hue-the city in the UNESCO list, the most ancient market names Dong Ba. It is a familiar place that native people often come to buy necessary things day by day such as food, clothes and household appliance with reasonable price. Its area is quite huge located on the north of the Perfume Riverbank. The market offers a lot of Vietnamese traditional food for breakfast including khoai cake, spring roll and pho noodle. 
5.    Quang Ba flower market (near West Lake, Hanoi)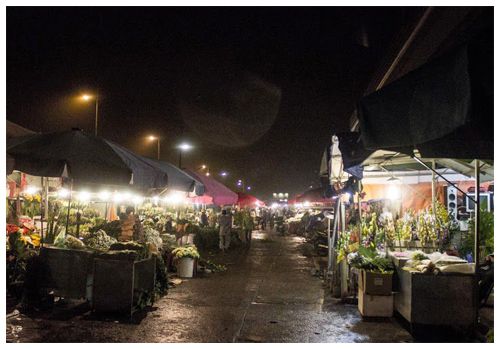 Opening at 2AM to 12AM everyday, Quang Ba flower market is located in Tay Ho District. It is crowded with brilliant flowers from Nhat Tan, Me Linh, Dong Anh, Da Lat and Soc Son. It is much more chaotic in Tet. You can see stylish native people riding a motorbike on the narrow route. Flowers here can be sold in bouquet or one by one at quite low price with variety kinds such as rose, sunflower, daisy, orchid and cherry blossom. It is a must-try experience if you are a flower lover or you can wake up early in the morning. Remember to bring about your camera to catch the unforgettable scene.
6.    Binh Tay Market (In Saigon) - Top of Old Vietnam local markets
Tourists will be impressed by the native Buddhist culture of Cho Lon or Binh Tay Market also. It is a whole-day-open market located in the Chinatown, District 5, Saigon. This Chinese styled construction is crowded with a vast variety of textile, handmade items, fresh food and lacquer. Because of the humid climate and the chaos, you may feel a little bit airless in the center yard. In this site, the rocky plaque memorizing the founder of this market and an altar are situated. However, in the rear of Binh Tay, there is an outdoor food court serving traditional Vietnamese noodle, Chinese sausage and steamed pork bun.
7.    Dong Xuan Market (Hang Dao, Hanoi)
Located in Dong Xuan Street, the biggest indoor market of Hanoi is Dong Xuan with soviet-style 4 floors. A part of this crowded market is in the ground where native people bargain for vegetable, meat and seafood. The upper floors are the area of fabric, luggage, printed top, school uniform stands with whole-sale price. In rush reason, it is a tourist attraction that we should not miss out in case that we long for exploring the trading of Vietnamese conical hat and the lifestyle of native people.
8.    Phan Thiet Central Market (in Phan Thiet)
The next market we would like to introduce to you is Phan Thiet Central Market. It is the site of hundreds stands where you can buy local specialty, fresh food and household items. Its opening time is from 5AM. It is easy to find all species of low-priced fresh seafood such as snail, crab, shrimp, clam and squid. The market which is situated in the junction between Nguyen Hue and Ly Thuong Kiet Street impresses tourists with the moment when natives bargain with the sellers. It is also a place that offers cheap stunning Vietnamese specialty such as fresh spring roll, crispy pancake and turmeric noodle.
9.    Ben Thanh Market (in District 1, Saigon)
Although Ben Thanh Market is considered as a trap for seasoned tourists, it is still a must-come in Saigon. There are countless coffee sellers; textile, handmade item, apparel, electronic good, watch and baggage stands opening until 10PM in this market that is situated in District 1. In the forenoon time, it is crowded with many native people buying seafood, spices, household appliance, nut and fresh fruit. Like almost Vietnamese markets, Ben Thanh offers several kinds of delicious food including spring roll, crispy pancake and pho.
10.    Nha Trang Market (Nha Trang City) - The paradise of seafoods in Vietnam local markets
The last one we would like to mention is the article is Nha Trang Market (or Dam Market). Opening from 4AM, it is a 3-floor building in the heart of the city. It is the most hustling spot with numerous products such as trinket, local specialty, fresh food and handmade clothing. Its distinctive feature is that it is organized orderly. The front and middle area is for mementoes and the rear one is fish and meat stands. In the right side of the market, there are dried seafood kiosks where you can find delicacies of Nha Trang such as seaweed, squid and shrimp.
11.    Cai Rang floating market (Can Tho)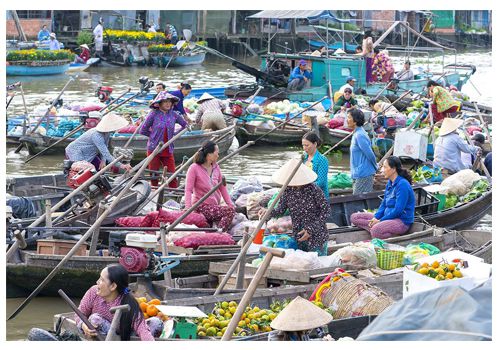 It is mentioned as one of the most special market in the World, Cai Rang has been hold on Bassac River (a small part of Mekong Delta). It is different with the other local market,
Cai Rang
is the largest floating market in Vietnam with both of retail and whole sale activities. 
Almost of tourists come to the south-west of Vietnam want to explore Cai Rang at least once time. If you visit this market in its most crowded time from 6.a.m to 9.a.m, you will never be regretted. Likely other local market, there are thousand goods to buy. You can try sipping an ice-brown coffee or your breakfast with very local prices… 
12.    Minority love market (In front of Old Church, Sa Pa Town)
Talking about Vietnam travel, no one can ignore Sa Pa, the highland of minorities and hill-tribe. Although, Sa Pa develops very fast, but it still keeps the traditional values of minorities. If you come to Sa Pa Town in Saturday, let's go to the Stone Church to join in Sa Pa Love Market (
More about Sa Pa Love Market
).
The Love Market is the place that H'mong people come to dance, play instruments, and communicate to find their love. Calling as a market, but there are not love selling activities. Boys and girls talk together, then beginning dating.  
Take a Look at Our
featured tours
Call to book
(+84) 3 87 86 68 52