What to do when staying in the peaceful land of Quy Nhon
Talking about visiting Vietnam on vacation, surely the destinations crossing everyone's mind would be cities like Nha Trang, Da Nang, Hanoi or Ho Chi Minh City. However, there is a place that people rarely visit or even heard of Quy Nhon, an unpopular coastal city in the center of Vietnam. Yet, it is not lacking any peacefulness as well as energy compared to the other cities. The city is located in the middle between Nha Trang and Da Nang (or Hoi An), has been under the radar of a large number of tourists for a long time, even for local travelers. That is the exact reason why this place is truly the hidden pearl in my eyes, however, the place is not exactly "hidden" anymore, as words spread out on the internet bringing the city to light slowly, along with efforts made by the Vietnamese government to promote the city to foreign tourists.

Quy Nhon has all the potential to be regarded as one of the best tourist destination in Vietnam, offering visitors with days of serenity and peacefulness, a great spot if you are looking for a getaway from all the hustle of urban life.

Here is the list of things that you should try when coming to Quy Nhon.

1.    The uncrowded beaches of Quy Nhon
Surrounded by lines of mountains to the West and the South China Sea (as known as the East Sea) on the other side, Quy Nhon is gifted with extraordinary scenery and sunny beaches. Two most popular beaches would be Queen's Beach (Bai Trung) and Bai Xep. 

The Queen Beach is so beautiful that it has been compared to a hidden fairy. The name "Queen" came from a historical fact that the late Emperor of Vietnam, Bao Dai and his wife, Empress Nam Phuong chose this place as a private relaxation place during their trip in 1927. From Queen Beach, tourists can drive about 2 kilometers to get to Quy Hoa Beach where an old center with over 200 houses in French style for leprosy patients is located. This place is the place where Han Mac Tu, a famous poet spent his last days and created many popular poems. Other attractions at the site include a statue park to acknowledge contribution of scientists and those who have helped cure the leprosy.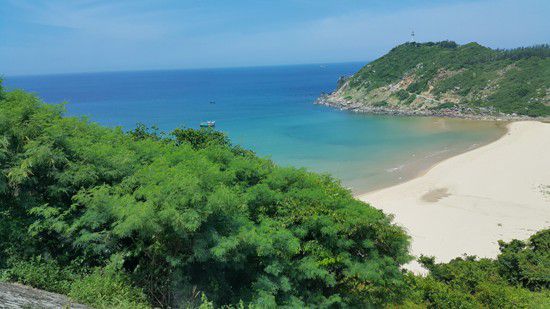 The pristine Quy Hoa beach looking from a distance

Bai Xep is a little bit more isolated, suitable for travelers who like relaxing feeling and blending in surroundings. Despite its seclusion and peaceful beach setting, Bai Xep has a surprisingly fun and upbeat vibe to it. The fisherman and locals embrace and greet with pleasant smiles. There is not much else to do in the evenings but having a few beers at sunset and soaking in the atmosphere. There is even the occasional local band performing contemporary hits. The highlight activity is taking the Island Boat Trip – a great dose of tranquilizer great for your relaxation. 

Down to the south, there are two other beaches that is not as popular as the ones above but they are also attracting a lot of foreigners: Bai Rang and Bai Rau. The waters of the beaches are crystal clear, along with the smooth golden sand. During daytime, you can occupy a relatively large space for your own pleasure as most locals are not interested in heading to the beach when the weather is too sunny. Furthermore, the long coastline along the highway creates some small bays and sweeps of sand, which are perfect for people who like to relax in a private area. 
2.    Scuba diving and swimming at Phuong Mai Peninsula
It takes a fair amount of travelling to get to Phuong Mai Peninsula, about 8 kilometers, crossing Thi Nai Bridge, the longest sea-crossing bridge in Vietnam. The most frequently visited beach is Nhon Ly beach, but we will talk about that later, as you should stop by Phuong Mai sand dunes beforehand. Unlike the sand dunes of Mui Ne, the Phuong Mai Peninsula Quy Nhon is the place for rolling on sand hills. These beautiful white and brown hills are enormous and can be found over a large portion of the Peninsula. If you are an energetic person who has confident in your ability and endurance, you should try climbing up on one of the sand dunes. It may not an easy journey, especially during the hot temperature of summers. With a little effort, the reward is worthwhile trip with majestic views of the ocean reaching all the way to the horizon. 

Another place that you should visit is Eo Gio – one of the treasures of Phuong Mai Peninsula. It locates in the Hung Luong Hamlet, Nhon Ly Commune, near Quy Nhon City about 20 kilometers to the northeast. Eo Gio is a beautiful landscape owning a majestic appearance in Binh Dinh – a new tourist destination where most tourists want to visit when coming to this central coastal city. The name of Eo Gio is originated from this region's geographical shape. Eo Gio is beautiful in its own way with its rock cliffs in varied shapes running to the sea: the mountain holds the sea, the sea plays around the mountain, waves crash onto the shore with the sound of love songs. You can spot studded boats in the distance and hear birds twittering on the sky. Seeing from above, Eo Gio looks very attractive, wild and primitive.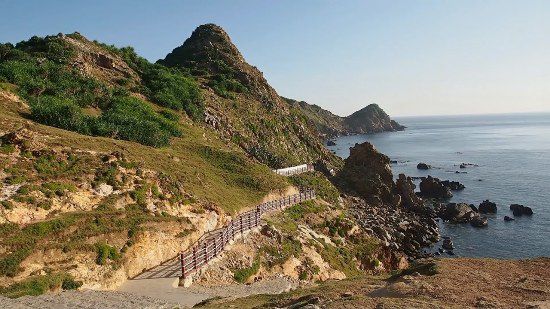 The breath taking view of Eo Gio

Nhon Ly Commune also have Hon Seo Island, an unoccupied island that has various species of wild plants and animals, along with its pretty landscape including colorful rocks come in any sizes. 

Heading north for a few kilometers away from Nhon Ly, you will arrive at Trung Luong Beach. The beach is a combination of crystal clear water, mini sand dunes, fresh air and rocks. It is a perfect getaway spot to slow down and enjoy the walk along the coast with your loved ones. The food stalls nearby will offer you treats, the best one would be grilled seafood. Travelling a few more kilometers to the furthest point northern of the island, you will arrive at Nhon Hai fishing village, from which you can get on a boat and sail to Hon Kho, which owns a fantastic sandy beach similar to Trung Luong Beach, in addition of extraordinary coral reefs. Due to the fact that the water around this island is not very deep, so even visitors who do not know how to swim can easily discover those coral reefs. One can even have the chance to witness with his/her own eyes the sea turtles when they go to the shore to lay eggs at night. 
3.    Buddhist temples
People who are finding religions related buildings and structures to visit, then Quy Nhon brings you a variety of Buddhism temples and pagodas. In the center of the city, you will find some of them such as Minh Tinh Pagoda, Hien Nam Pagoda, or Long Khanh Pagoda. It is worth mentioning Chua Long Khanh, which is a big temple built around the 18th century, but it was heavily destructed. The temple we see today was constructed in 1956. The temple holds a statue of a Bodhisattva, who has received the compassion of all Buddhas and became Avalokitesvara. Nhon Ly area also has the twin Buddha statues in Ngoc Hoa Monastery, with a direct view to Phuong Mai Peninsula.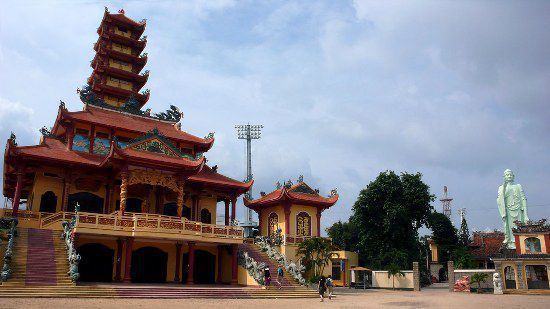 Long Khanh Pagoda - the biggest pagoda in the city
4.    Ruins of Champa
On the way coming to Quy Nhon, I was wondering what those old ancient brick buildings are that looked like it was ruined, which showed up around the city and also the countryside. It turns out that they are the remaining ruins of Cham temples, which once belonged to the formidable kingdom of Champa. The kings of Champa kingdom first stepped their feet here during the 11th century. There are many structures that survived the cruelty of time and wars, which continued to be preserved until today across the city of Quy Nhon. There are structures that tourists will be able to reach easily, such as Thap Doi, Thap Banh It, Thap Duong Long, with most of them stay intact until today. They are towers made of bricks with dancing human carvings, animals and flowers like lotuses. The designs of these relics reminded me of Angkor Wats in Cambodia.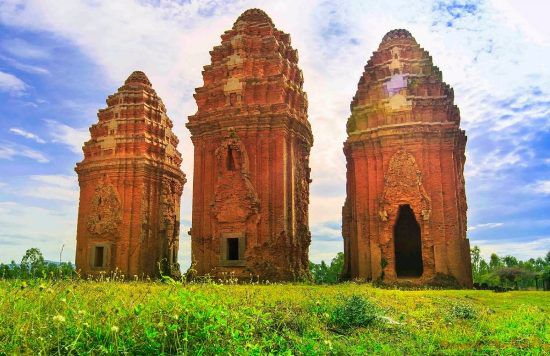 Duong Long Towers - one of the ancient buildings that still remain until today

The harder ones to reach would be Thap Banh, as it takes a fair amount of time to reach it from the airport. This is the best preserved relic of Champa kingdom, you can't see any other relics that is this well keeping. It is surrounded by the eye-catching green grass along with cloud-filled sky flying by slowly. Meanwhile, Thap Duong Long is the tallest Cham temple standing in Vietnam, however, it is fairly damaged and rarely attracts tourists. It won't hurt your desire to explore the place though.
5.    Binh Dinh Museum
This small museum concentrates on regional history and has some superb Cham sculpture. The entry hall focuses on local communism, while the room to the left has a natural history section and exhibits devoted to tribal culture. Impressive Cham relics fill the rear room, including an astonishing 12th-century statue of the Godess Mahishasuramardini. The room to the right is devoted to the American War.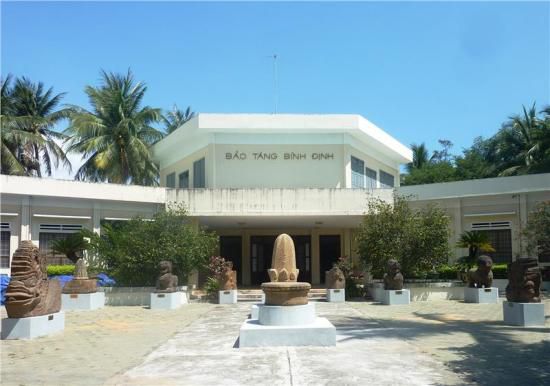 Learning the history of the land by visiting Binh Dinh Museum
6.    Nguyen Nga Gift Shop Center
Nguyen Nga is a center which was founded to serve the purpose of aiding the ones with disabilities and supporting them on how to live with their disadvantages. The disabled are instructed on making handicrafts like scarves, bags, bookmarks, which are then being sold as souvenirs, providing conditions for them to make their own living. If you are lucky enough, you will be able to enjoy music performances from the disabled members of the center themselves. The center was first established by Nguyen Thi Thanh Nga, who has strong compassion for people with disabilities, as her own sister became one in a tragic accident. Find some motivations here as the members of the center are always positive with a big smile on their faces, despite their difficulties.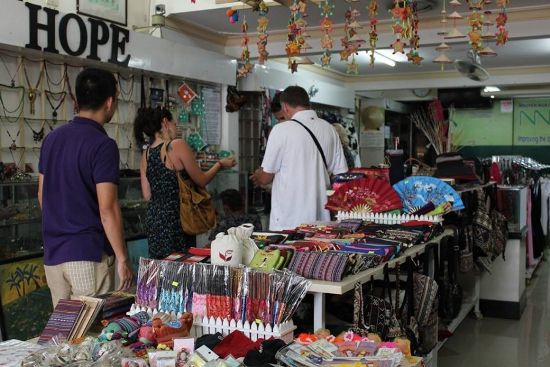 Guests are buying gifts at Nguyen Nga Gift Shop Center 
7.    FLC Zoo Safari Park
If you are travelling with kids, it's best not telling them about places like museums or relics, as they are often not that interested in neither history nor culture stuffs. The most suitable destination would be the newly opened Zoo Safari Park Quy Nhon, which sits around Nhon Ly area. The safari was funded by FLC group, firstly serves as a conservation center for about 900 individuals of many species. Due to many reasons, the number of species are narrowed down to some species like ostrich, deer, bear, tiger. The park is carefully designed with paths filled with green color of the grass, along with human made ponds. There are coffee shops, restaurants and a boat landing spot in the park, making the ideal spot for a family picnic.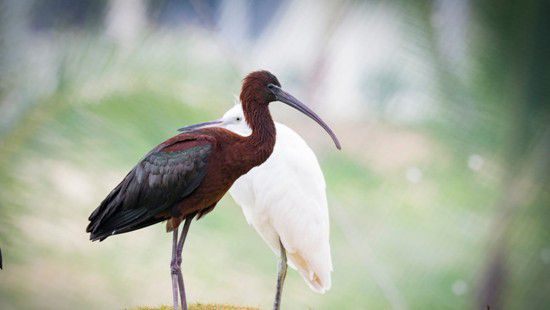 Going to Safari Park to observe variaty of animal species 
8.    Trying the local's specialties
Anywhere in Vietnam, culinary specialties are always a plus point, so Quy Nhon is not an exclusion. With the rich source of seafood caught everyday, it is not difficult to enjoy the fresh shrimps, squids, scallops or all kinds of fish, with liquors like beer and soda, which come with insanely low prices. There are a few other dishes that one should try, such as Banh Xeo (rice crepe), Banh Hoi (small pieces of rice vermicelli), Bun Thit Nuong (rice noodles eating with grilled meat) or Banh Bao Chen (steamed rice pancake).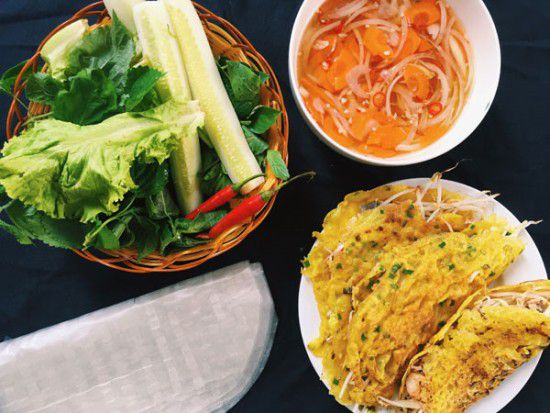 Savoring the crunchy and tasty Banh Xeo - a famous local dish in Quy Nhon

If you are a vegan, that would not be a big problem. The city offers many vegetarian restaurants serving vegetables and food made of soya. Eating outdoor is literally a thing in Vietnam, especially eating in street food stalls with small plastic chairs and tables. You shouldn't skip the opportunity to try tasting food in the Vietnamese way. 
9.    Karaoke
The best way to end a day like a true Vietnamese is singing karaoke. After filling your stomachs with delicious specialties, this is the place you go to before returning to your hotel. Karaoke is very popular in Vietnam. It is easy to find a karaoke with flickering and showy LED signs anywhere. 

Once going inside a karaoke room, you will find a just barely lightened room with big screen showing the lyrics for you to sing, with music playing in the background. The options are limited though, as karaoke song's playlist have only a few English tracks. Hopefully they will be updated as more and more foreigners coming to the city. 
 
related destinations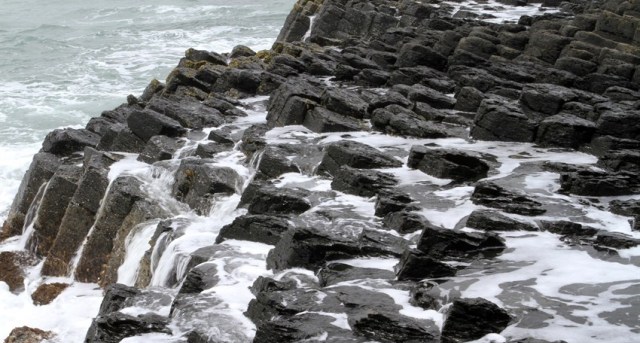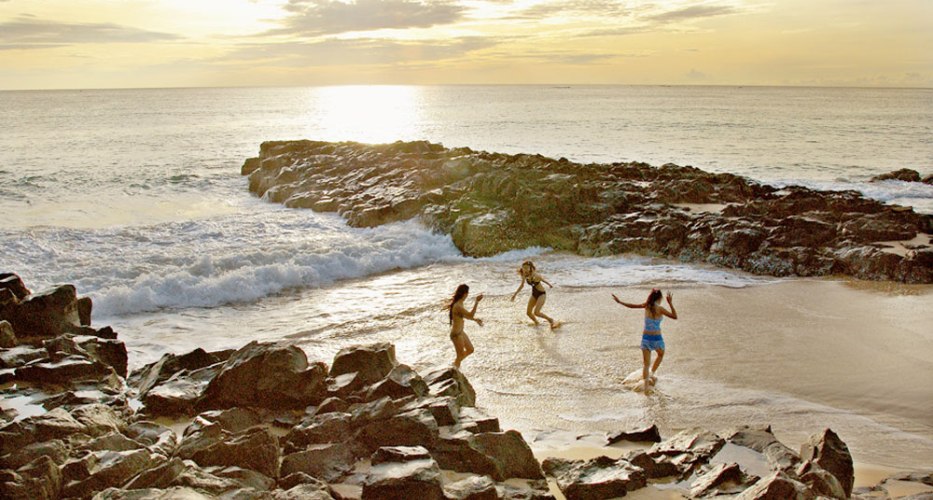 Call to book
(+84) 3 87 86 68 52