6 Natural Breathtaking Masterpieces of Sea Island in Van Phong Bay
Is is compared with a sleeping princess on the immense sea, Van Phong Bay is lovely charm, made strong impression on travelers by white sandy beaches stretching till the end of horizon, blue clear water and colorful ocean thanks to the diversity of corals and marine life.

Van Phong Bay is one of the most beautiful bays in the world as well as a natural wonder with moderate climate, beautiful beaches, soft sand and surrounded by majestic mountains. This is the only place meeting full elements of a marine paradise: extremely beautiful, extremely pristine and absolutely peaceful. Let with Far Eastour discover the best destinations of Vietnam sea paradise.

1. Hon Bip (Diep Son Island)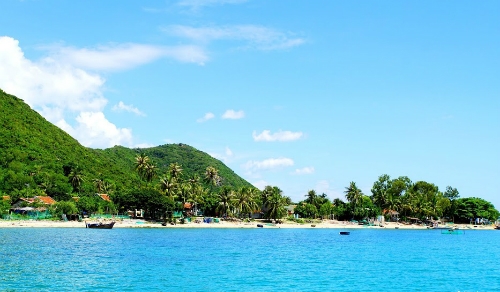 Diep Son Island is seen from afar.

Refer:
Vietnam 2 week itinerary
with private time in Nha Trang City.
Diep Son is one of the most difficult island communes in Khanh Hoa province. There are 83 households still living in deficient conditions of electricity and clean drinking water on this island. Diep Son includes 3 small islands emerging in sea area of Van Phong Bay. The journey to explore this island starts from Van Gia Town, after about an hour of sailing, the beautiful archipelago of Diep Son gradually appears, clearly cut picture on the horizon.
The road lies below sea level.

The special thing in Diep Son Island is extremely unique and interesting conquering journey over the road under sea with 700 meters long. It connects middle Island to the large Diep Son Island. Winding road is about 1 meter wide and located deeply below blue sea water level less than half a meter. Walking on this path, you will feel extremely excited, intermingled nervous and a little scared when you have to step among the mighty ocean. You can delight in watching the little fish swimming around two sides, sometimes can see the fish jumping out of the water, or wave your hands to the boat running at glance.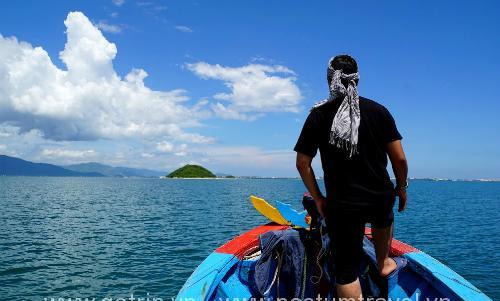 Discover around the islands, tourists will admire the beauty of pristine beaches
with white sand, blue sea, and beautiful reed field.
2. Hon Ong (Ca Voi Island)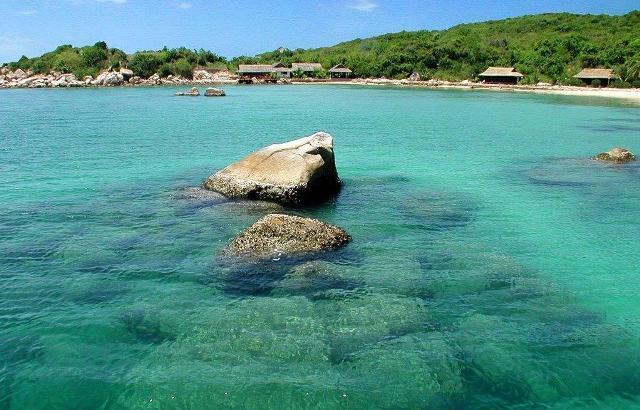 Hon Ong has been pretty wild, not many people know about.
Hon Ong is very different from other tourist islands that it has no resident. There is only one resort on island called Whale Island Resort, and services on the island are supplied by this resort. Environmental protection issue is also respected on Hon Ong Island (not permit fishing or hunting birds). So if you're looking forward to a place where you can "play hard" or a crowded place and a noisy bar at night, Hon Ong will be totally inappropriate.
Vietnam Classc Tour:
Cheapest 12 day tour in Vietnam
go to Nha Trang.
Hon Ong is only suit with tourists who love sea and want to temporarily stay away from the noise and hustle life in city. They like exploring the natural places which are unspoiled, quiet and peaceful. This island is also an ideal place for newly married couples who want to enjoy the sweet honeymoon together. Most foreign visitors evaluate Hon Ong at 9 or 10 points in terms of landscape and location. Many visitors confirm that this is really a paradise of sea among many destinations they have ever been to.
Relaxing and floating on blue clear water surface

3. Dam Mon peninsula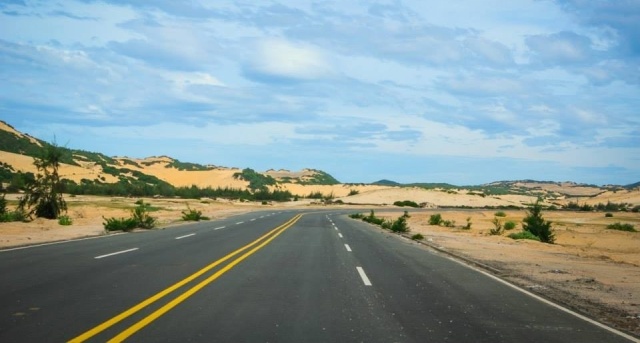 The road to Dam Mon

Dam Mon is a peninsula with a total area of 128 km² and includes 20 small –larger islands with virgin forest. Dam Mon Sea is very calm especially very clean, can see the bottom because the water is shielded by Hon Gom and Hon Lon peninsula according to bow shape so year-round there is no big wave.
Experience a new and original
Ocean tour to Vietnam central coast
in 7 days: Phan Thiet - Nha Trang - Quy Nhon.
Coming to Dam Mon you can visit the fishing village to learn about life here and contemplate here, because sightseeing is very beautiful, is a great place for amateur or professional photographers. Other activities at Dam Mon which visitors can experience are: discovering ocean with diving to see coral service or renting a boat to explore the small-large islands' beauty or simply soak body under a clear beach with the sparkling sunlight.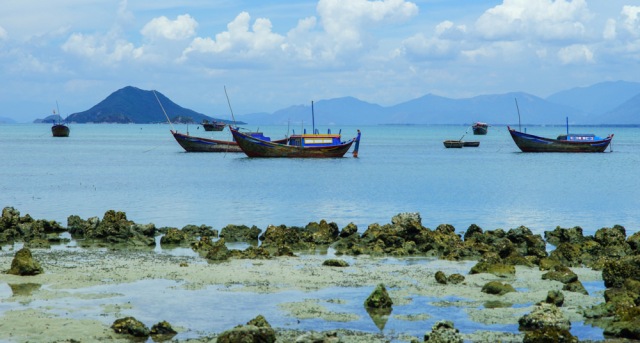 Panoramic Dam Mon

4. Son Dung Village (Xuan Dung)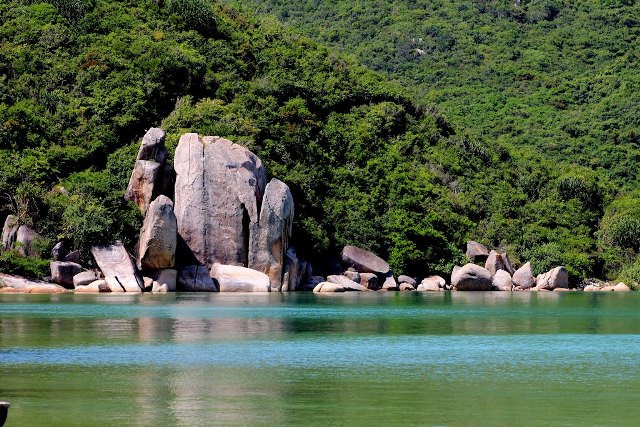 Son Dung is a small village with only a dozen of rooftops, is home of Dang Ha ethnic. It is thought that their ancestors were fishermen from Malaysia or Indonesia who drifted to the island because of storm in the 18th-19th century. The Dang Ha has swarthy skin, curly hair, widened eyes, their lifestyle and language today are assimilated completely like Vietnamese people, except still carrying on head habit like the Cham. Son Dung doesn't have roads, people move along the sand, when the tide rises, the road will disappear.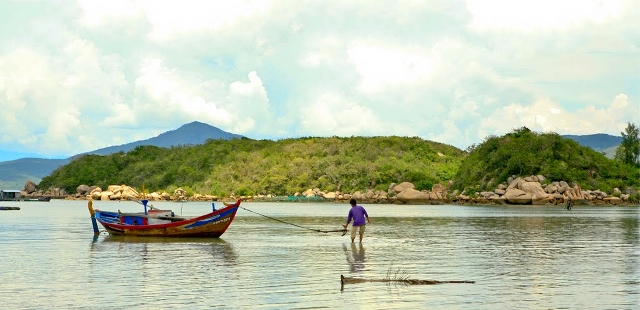 Clear sea water is beautiful as a picture.

Explore
Vietnam Cambodia Package in 3 weeks
crosses over Nha Trang City.
Son Dung Beach is picturesque and very clean, probably because few people come here. A very interesting thing in Son Dung is you can get fresh water right on sand beach next to the sea's edge. Few steps from the sea, digging up sand far from salt water about 1 meter, you will see water oozing slowly then coming up in a small hole, try to drink this water you will feel exactly as fresh water. There is no any little salty or brackish taste. Especially, from Xuan Dung beach, tourists can travel by boat to visit Lách beach where there are many coral reefs and stunning rocky reefs.
5. Hon Lon
Van Phong Bay to the Northeast is Hon Gom peninsula where concludes small mountains and stretching sand dunes. Hon Gom peninsula stretches 27,5km and looks like an outstretched arm hugging treasures: Hon Lon. Hon Lon in the past is named Dai Du Island, located in front of Van Phong Bay. It discreetly shield for ships to hide from storms. Situated in the west of Hon Lon Island is Hon Lon Mountain with the highest peak on the 580 meter over sea level. Besides, there are many lower mountains on the island which till this day are still covered with primeval forests.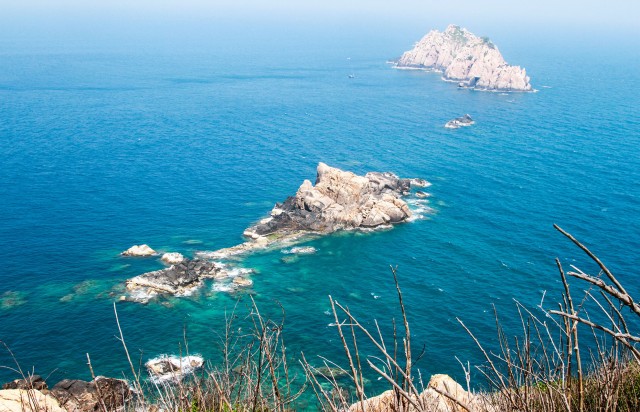 Blue sea water and white sand beach make visitors infatuated
Geological structure of Hon Lon Island is quite strange. One side is a soft sandy waistline for boats to anchor, the rest of three sides are sharp rocks area and quite dangerous. The stand rocky blocks make the adventure feel heart attack. Visitors want to reach Hon Lon can choose one of two way: The first way is from Van Gia port (Van Gia Town), you hire a boat of fishermen to go to the island (about 16 km). The second way is enter Dam Mon, according to fishermen's boat on Son Dung beach to go to Hon Lon Island (7 km).

6. Mui Doi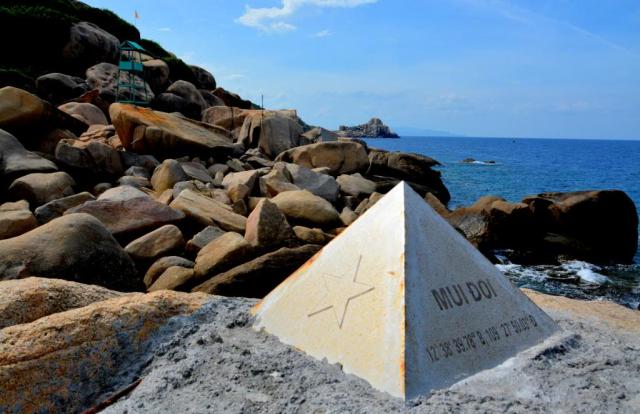 Vietnam easternmost in Khanh Hoa Province

Mui Doi – Hon Dau is located on Hon Gom peninsula of Van Phong Bay. People called Mui Doi because there are two rocky blocks which are protruding to East Sea at one position. Mui Doi is also known as Mui Ba Dau and has a very beautiful natural landscape with stone structures that make up great stone works with varied shapes. Specifically, Mui Doi is also the easternmost point as well as the place welcomes first sunshine of a new day on S-shape strip land.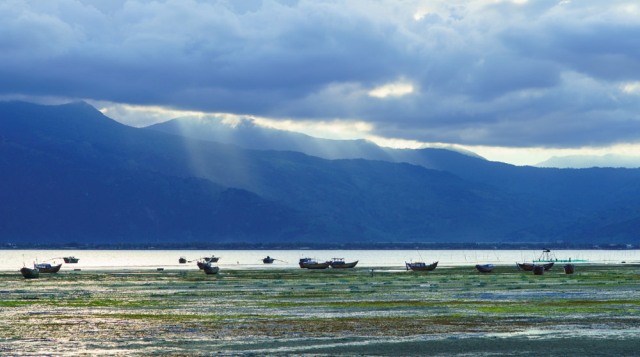 Na Beach is cosmic with no people shadow

From Dam Mon, you can move to East Pole by your feet or rent a boat to go straight there. But surely most of you will choose the moving plan on road. Travelling by boat just in case your health is not guaranteed and go at quiet sea time unless the boat can be difficult to dock because Mui Doi has a plenty of reef.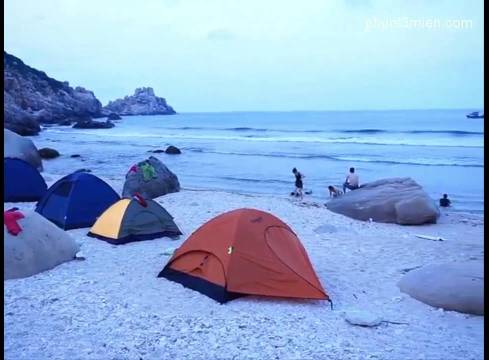 Overnight camping on Rang Beach
Take a Look at Our
featured tours
Call to book
(+84) 3 87 86 68 52