An Bang beach - the Amazing Hidden Gem of Hoian
Contrast to the hustle in Cua Dai, peaceful and deserted beauty of An Bang will make you fall in love right at the first time you see it.
A few years ago, when I had arrived Hoian for the first time, I just knew Cua Dai beach. It is located far away from the old town of Hoian with picturesque crowed roads at sunset and good smell of grilled ray and steamed squid. One year later, I went back Hoian, but this time An Bang is my destination in very afternoon. In my eyes, until now, An Bang has been one of the most beautiful and peaceful beaches.
 
An Bang is about 2,5 kilometers from Hoian's ancient town with rural scenes on the way

An Bang beach is a little closer than Cua Dai beach, just takes about only 10 minutes by taxi with straight road. But An Bang is much more deserted than Cua Dai. If Cua Dai always gives us the feeling of hustle with laughing sound of young people playing with the waves, An Bang exists in different style. After cycling in not so far distance, you would see a pearl green color extending endlessly. But until you walk over street café outside, put your feet down on the white sand beach and wade into the water, your mind would be really overwhelmed with the scenery stretching in front of your eyes. The wide beach with blue color of the sky and water is like the liberal strokes drawn on a big carpet. The endless sandy beach is as same as an ivory silk. But the most wonderful thing is the deserted of the beach, only having smooth wave sound, not as noisy in Cua Dai.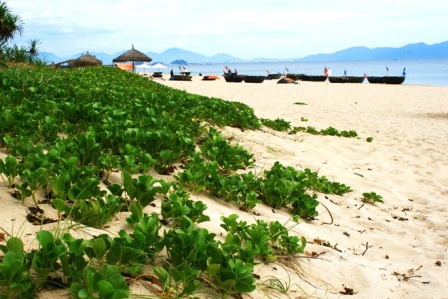 Untouched beach of Hoian was used to be the sea-side of local

You may wonder, what is funny in such a deserted beach? In fact, there is no fun if you cannot find out the joy from that deserted land. I'm fed up with crowd, narrow beaches. So I become enthralled the quiet of this place and I believe that many other young people would think the same. But it doesn't mean An Bang is totally desolate.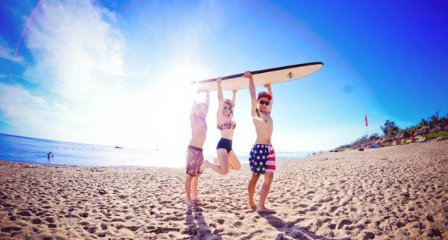 It is a very private place to sunbath lazily or read a book
In An Bang, there has seafood restaurants, café where you just walk through and owners will give you attractive offers which you couldn't refuse. But don't be totally put away by that offers. Because if you just walk a little further (usually take the left from main entrance) you will find the lovely bar owned by foreigners. You could easily recognize them by colorful bean bag, small huts with a pretty cushion and mat furnished on the sand. Then, when you lost your way just by watching them, you would definitely admire the beauty and interestingness that they create to the scenery around you.
 
An Bang beach with only several small restaurant to serve beach-chair, seafood, and drink

You know, how many of us could control ourselves when seeing a single bed with purple mattress under a big umbrella on the white sandy beach? Or a sofa with a bamboo frame covered by linen which overlooks the sea? Just thinking of lying on that pretty bed, chair, reading an interesting book, turning on eventful music and sipping a cool glass of coconut water is enough to make anyone of us feel that the wilderness is a special privilege.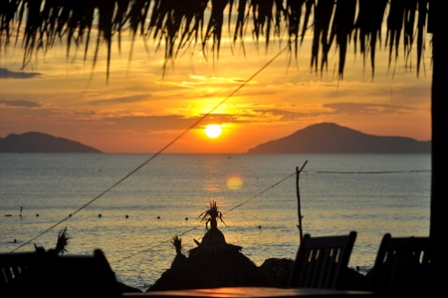 Sun rising in An Bang  beach

Although An Bang is a little deserted, but it would be the best if you come here with your friends. Because the beach doesn't have so many people so you can play comfortably without hesitation, perhaps there are few Western visitors interesting in your games. Waves in An Bang beach is also strong (not strong enough to sweep you away from the shore so do not panic) so it will facilitate jump-on-the-wave game or handball.

Especially, there are a lot of bars in An Bang lending or leasing surfboards. And you know, after swimming hard for hours with mischievous friends, we drag our feet to the shore, take rest on that comfortable chair, wait to dry the body by sea breeze, and listen to live music from a nearby cafe. And then you feel the happiness filled in every of your cells.

Of course, I will not compare An Bang and Cua Dai and tell which is better. Each of them has distinct beauty which makes us love and remember. But I believe that An Bang is like a paradise where you and not so many people enjoy the tranquility and sweetness of the sea which everyone should experience once in a lifetime.
Take a Look at Our
featured tours
Call to book
(+84) 3 87 86 68 52