Thanh Ha Pottery Village - 500 Years Old Handicraft Village of Hoian
Following steps of tour guide to Thanh Ha pottery village, I was surprised at the change of this ancient village I visited 8 years ago. The tourism development follow positive way, not only preserve traditional pottery village but also introduce Vietnamese pottery brand to other countries in the world.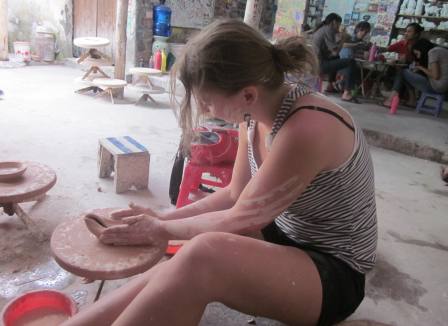 Foreign customers is DIY a pottery product

Situated on Thu Bon River bank, far about 4 km from Hoian ancient town to the west, Thanh Ha pottery village is known as the famous traditional village existing along with formation and development of Faifo (other name of Hoian) from XV- XVI century. Ceramic products are allocated to all communes in Hoi An and neighboring areas to serve the daily life of local people, contributing to embellish the calm beauty of the world cultural heritage.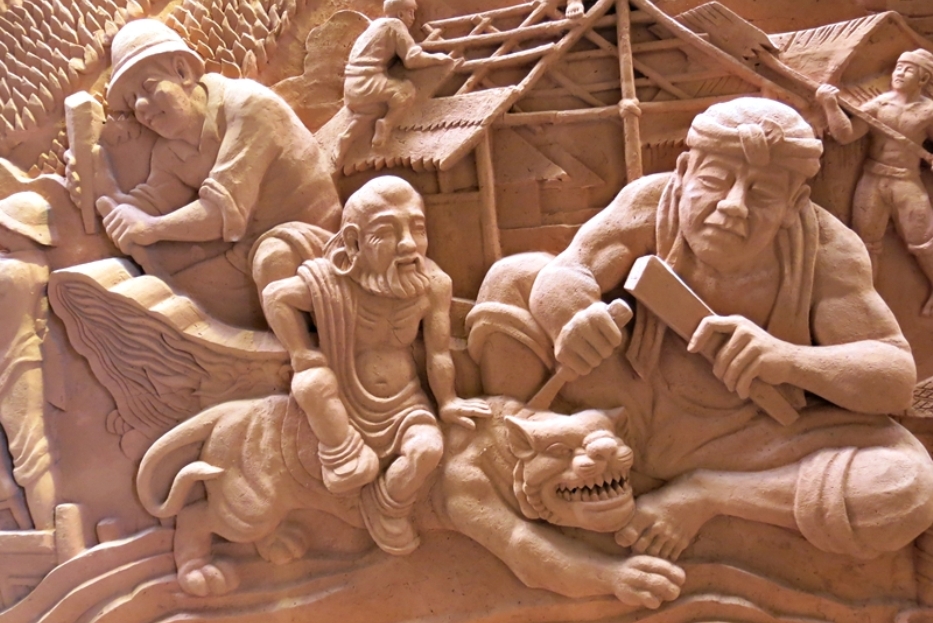 The article products of Thanh Ha Pottery Village

Thanh Ha pottery is different from others because the potters don't use glaze but combining several elements including land, water, fire and experience to create soul of ceramic products. Thus, after being baked with fire, the color of clay turns pink which is very strong and typical. Material of Thanh Ha pottery is made of clay of Thu Bon River, this is a yellow-brown clay with highly plastic and adhesive characteristic. The potters take land then mixing, plastering, keeping tightly, until it is well-kneaded then just putting it on turning table. By the hands of the potters, clays are made different shapes and dried then taking them to dry under sun.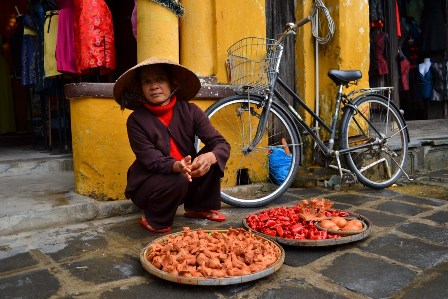 The close products of Thanh Ha is sold in Hoian's old town

Coming to Thanh Ha, in addition to enjoy talent of ceramic art, tourists are also more interested in being instructed by the artisans to make ceramic products with their own hand only with clay and a simple turning table. Witnessing an elderly potter instruct young foreigners to make pottery, I feel love the hands created the perfect curve on ceramic vases. Not any word but by an eye contact, a gesture, a smile, it still expresses the understanding between two generations from two different cultures to make a product together; that's a pleasant experience which is quite difficult for you to find out in other places. What made me proud was the small souvenirs that guests respected, carefully packed into bags, so Vietnamese ceramic brand was taken to the new lands.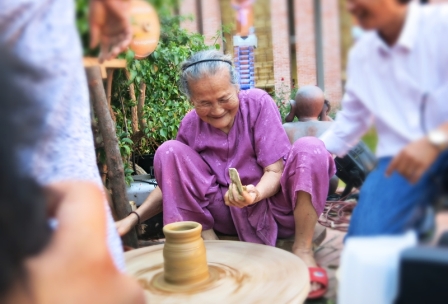 Artisans of pottery village

Traveling to Thanh Ha village nowadays, the red color of ceramic products is still showed everywhere, each house also has shadowing green trees; banian tree, pond, communal house's yard of the old village are kept intact, bringing the relaxing feeling in peaceful countryside. Walking on country lanes with straight rows of Chinese tea, I am silently grateful to local people here by the ways they preserve "previous scene and people" to introduce to foreigners.
Take a Look at Our
featured tours
Call to book
(+84) 3 87 86 68 52