Tra Que Vegetable Village
Tra Que Vegetable Village is an indispensable destination in exploring Hoian itinerary. It is far from Hoian's old town (Quang Nam province) more than 3 kilometers. This village already confirmed unique brand with tourists by a day trying vegetable growers tour.
From Hoi An, tourists often go to Tra Que vegetable village by bicycle. For over 10 years, Tra Que vegetable growers are familiar with the image of each foreign tourists group cycling to the village and volunteer to become a vegetable farmer. There are a lot of unique herbs in Tra Que village which are cultivated according to clean vegetable growing technology. It is really attractive to many tourists. Vegetables are fertilized mainly by algae taken from Cổ Cò River. People here suppose that this characteristic affect so much to the own taste of Tra Que vegetables that nowhere has. There are more than 20 kinds of vegetables cultivated in Tra Que village, but the most famous is special kinds of delicious herbs like basil, perilla, etc.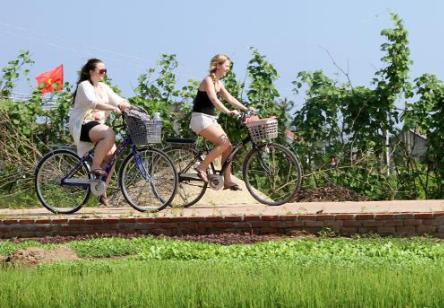 Only take a short riding, you will be savored a rural and lush vegetable village of Tra Que.
Besides traditional know-how, planting vegetable technique in this village is also applied scientific advances with closed cycle to ensure vegetables are always fresh and delicious, retained its special taste and quality of food safety for the user. With featuring cultivation, delicious famous taste of vegetable and location closed to the ancient town center, lush green Tra Que vegetable fields have become attractive destination for tourists who love quiet and peaceful countryside. Tourists who visit Tra Que vegetable village, can carry hoe to the gardens with garden owners, together clean weeding, fertilize, water or pick vegetables then come back the garden owners' house to enjoy dishes made from the freshest vegetables. Sightseeing and experiencing a few moments as farmers in Tra Que like that make visitors interested in and unforgettable memories but simple obtained from the unique journey.

Dropping water as a farmer in Tra Que vegetable village
Tra Que Vegetable Village (Hoi An) not only provides fresh vegetables for the local and surrounding areas, but also contribute certainly in making unmistakable characteristics of Hoi An cuisine. Last but not least, Tra Que farmers along with operating tourism company which is so innovative as Far East Tour have created many impressive tours traveling to Tra Que village for visitors to turn normal exploring tours to be more poetic than ever.

You also prepare your meal by the fresh vegetable that has picked up by yourself.
Ms Beth, a traveler who has just experienced a day working as vegetable grower, shares:
Oh it is very heavy on my shoulders, but I'm very happy and feel great. I think I have to practice more. I come here following a tourist tour. It's interesting when you have a new experience. This is my first time to VN and Hoi An. I find that your country is so beautiful.
Ms Beth as well as many visitors said that they have never imagined Vietnam like that and become real farmers like that. Green long beds of lettuce, lettuce, broccoli, basil, onion, cilantro, daisy, coriander make them be fascinated and do not want to leave attachment.
Take a Look at Our
featured tours
Call to book
(+84) 3 87 86 68 52