Kim Bong Village - The Long-Standing Carpentry Village of Hoian
Like the ancient town of Hoi An, Kim Bong carpentry village is also famous in many areas by carpenters going nationwide to build beam houses, old three-space houses retained until now.
Kim Bong carpentry village is now located on Cam Kim lands, was built at the end of 15th century.  It takes only 10 minute for visitors to sitting on ferry from Hoian ancient town to Kim Bong carpentry village, Cam Kim island commune. As soon as stepping foot on this land, we heard the sound of chiseling, drilling resounding from both sides in the west and east. The sound has become an integral part in the locals' lives of many generations having been here for a long time.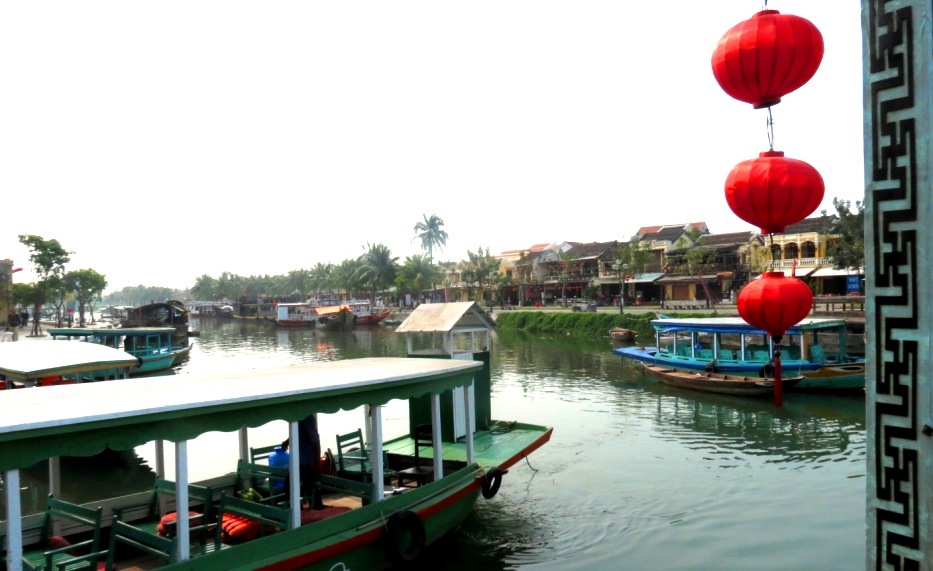 Every day, many ferries bring visitors to the reputable carpentry village.
 
Cam Kim lands is situated on the downstream area of Thu Bon river, Hoian was used to be an bustling trading port of Dang Trong in the past, so trade villages here such as Thanh Ha pottery village, Kim Bong carpentry are facilitated to develop.
Located on water area so it is convenient to transport of catamarans, build a ship, launch a ship, Kim Bong carpentry village also offers its products to many countries in the world by merchant ships. Therefore, until now, the woodworks of the village such as furniture, wardrobe, statue of Buddha,...are still ordered by many foreign traders. Eastern Kim Bong build a ship, Western Kim Bong carve woodwork so as to make the products existing for decades, whereas the old town of Hoi An is one of proofs of a prosperous period and talent of carpenters in Kim Bong as well.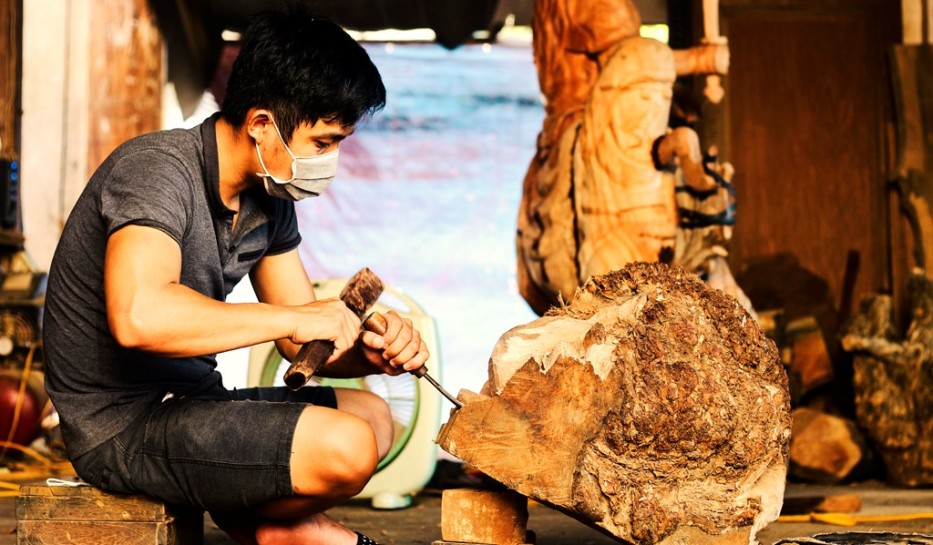 The generations in Kim Bong village still continue doing traditional carpentry 

Thanks to the East-West culture exchange, Kim Bong carpentry village still keeps for itself the distinctive specific through strokes of carving. While the carpentry villages of Northern provinces are affected a little bit by Northern feudal system, to bear the mark of Northern feudal dynasty. Each characteristic pattern is liken to dancing dragon and phoenix which representing power and influence of each period. Referring to Kim Bong woodworks, being gentle, rustic but exquisite is the things visitors can feel about the ancient town of Hoi An or other products. The design on each pillar is the pattern of flowers, leaves. With an image of dragon, whereas that made by Kim Bong carpenter is the image of bamboo turning into dragon, its mouth holds flowers and smiles gently. The image of farmer or Vietnam bamboo is also carved. All of them are rustic, close to people's lives.

In addition to the ancient town of Hoi An, the talent of Kim Bong carpenters is also recognized through the building history of Hue ancient capital. At that time, when Nguyen Dynasty decided to set up the capital in Hue, they invited the carpenters from the southern area to build. That carpenters are from Kim Bong village and Van Ha, Quang Nam province. Kim Bong has not only "carpentry", but also "plaster", they built royal tombs, temples and shrines throughout the central provinces. If carpenters make the fame of a house, the masons will plaster wall, cover the roof to complete the house, communal house.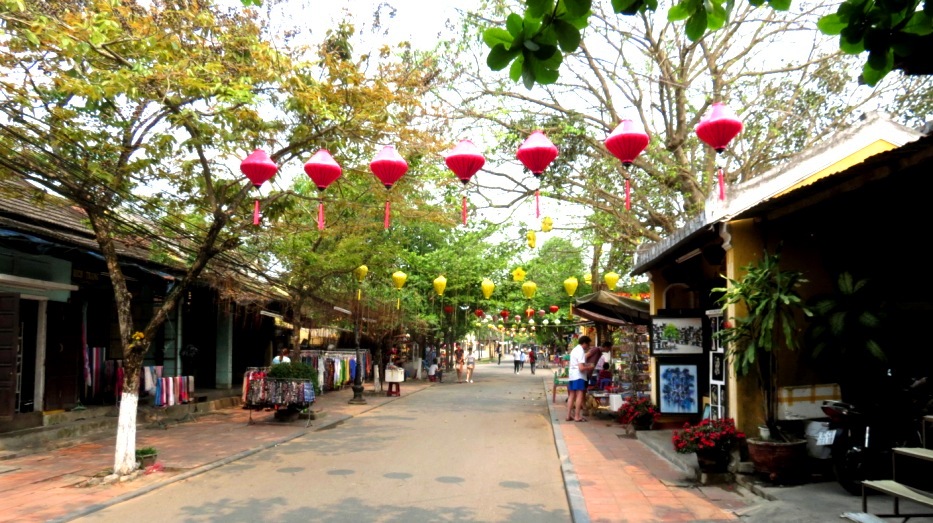 You can see lots of the article products of Kim Bong in Hoian' Old Quarter

The carpenter named Huynh Suong, who is 13th inheritor of the Huynh specializing in carpentry, said that
The woodwork of Kim Bong village is not same as goods to sell in market. From past to now, it is thought as a job. A product needs long time, a lot of effort and enthusiasm. So each house, each furniture also show the talent of the carpenters. 
The carpenters of Kim Bong village nowadays still go to many different regions to build the ancient houses and beds, three compartments and two lean-tos. The Huynh family, which is one of four families donated to form the village including Huynh - Truong - Phan – Nguyen, be still proud of Mr Huynh Kim Hon that used to participate in building Ho Chi Minh Mausoleum. The father and son of Mr. Huynh Ri, Mr. Huynh Suong also become excellent carpenters of Kim Bong carpentry village.

Coming to Kim Bong carpentry village, visitors have an opportunity to visit the carpenter's shop, watch directly the carving on products of talented craftsmen. There are a lot of special exhibits here such as the incensory carved the image of 1000 dragons by bamboo which showed in the millennium of Thang Long, Hanoi or Cau pagoda in Hoi An preserved the status quo.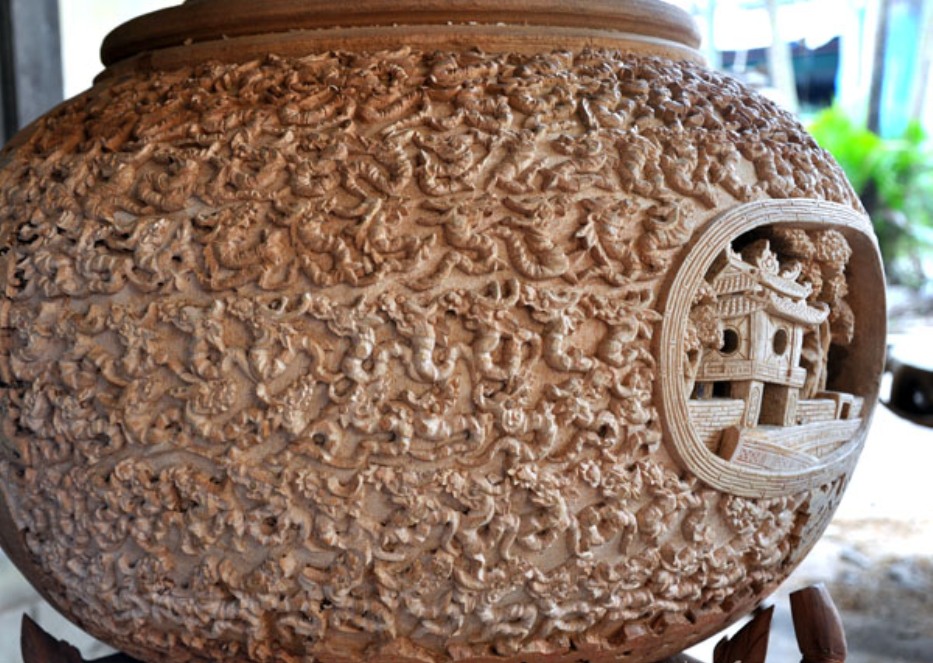 The entrancement carpentry product from the artisans of Kim Bong Village, which is very famous.
The products of the village now having differences with the other villages' are that woodworks are kept original color, even if they are painted or polished, they are also very light and still keep  the natural wood color. Owing to the wooden buffaloes, wooden pigs, carved, the plates carved bamboos, the young women with long dresses, it attracted the curious tourists at home and abroad tourists in the occasion to learn about Kim Bong carpentry.
 
Kim Bong carpentry products are not sold or promoted in anywhere, but  people who love woodworks from many places  still come to Kim Bong to order for an old house, old furniture. And somewhere in the ancient town of Hoi An, Hue imperial city which existing quietly for so many years, there always have images of the carpenters and mason in Kim Bong.
Take a Look at Our
featured tours
Call to book
(+84) 3 87 86 68 52