The Most Poetic Couple of River and Mountain in Hue
comparison with other cities in the world, Hue is truly too small. Over the years of changing, Hue still exists with Huong River and Ngu Mountain as well as many beauty which were went on to poetry, moving into the people's heart.

Hue is listed as a cultural heritage of the world because of the poetic and ancient beauty of Hue land. The Hue's beauty includes: several harmonious architecture built on both sides of the romantic Huong River, the king' tombs of Nguyen Dynasty scattered on the hillside among shady of solitude pine forests that reflecting down on clear Huong Giang surface.

Hue is not only concentrated place of temples, tombs, pagodas, famous churches but also famous for charming nature. Arriving in Hue, the first feeling which we catch will similar to entering a quiet, peaceful space with picturesque and nice landscape makes your heart fluttered.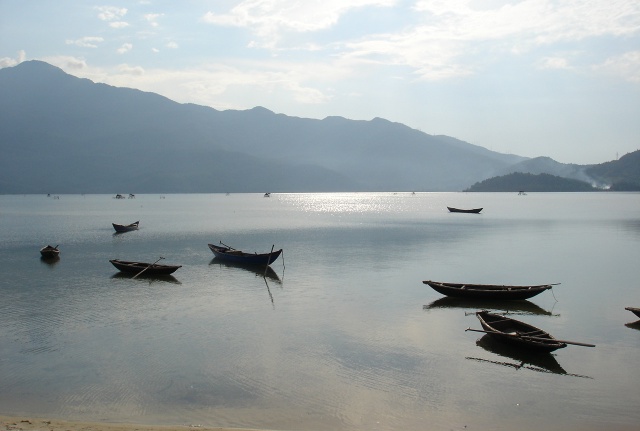 Hue is highlighted with with Huong River and Ngu Mountain - the symbols from many generations ago. If comparing Huong River with many other rivers in Viet Nam about length, width, large or immensity, Huong River is far lost but if comparing about the quiet, blue water or dreamy beauty, this river becomes very special. Huong River owns the boundless profusely creating attraction to poetic soul of poets and writers, putting them into the realm of wind-moon on the endless sky, leading them to fluted memories.

Huong River is a collection of hundreds of small streams from the majestic Truong Son mountains together flow to delta then into two main branches of Ta Trach and Huu Trach, reach to Bang Lang to pour into a water flow. This flow incurves among a vast green mountains and interruptedly turns to the East and smoothly floats to downstream across Hue Citadel and finally enters into Tam Giang lagoon and pours in to the blue ocean.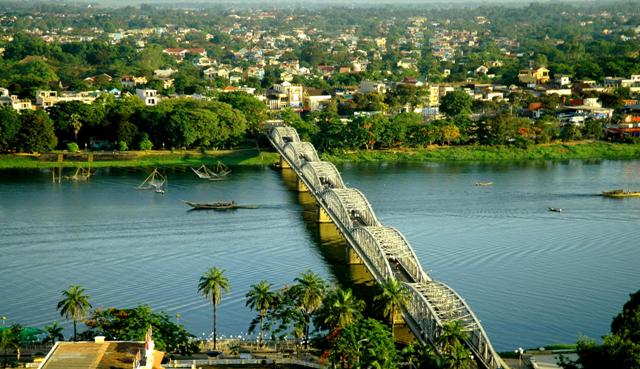 Truong Tien Bridge
Truong Tien bridge which is white silvery across Huong River looks like a charming Hue's girls in pure white "Ao Dai" who are shy, sheepishly under Bai Tho conical hat. "Hò" sound (a type of traditionally singing in Hue) echoes in the early wind on the river's surface through the boat toward to Bach Ho Bridge (White Tiger Bridge). The boats start to go into a quiet area, silhouetted trees on both sides where some ancient castles is looming.

If you have an occasion, you should try the feeling of floating on a boat to contemplate Huong River in a moonlit night and hear "sinh", "phach" sound and "nam ai – nam binh" song as well as enjoy four great scenes. "Hò" sound in Hue is very smooth and sleazy but sonorous. Slightly fragrant of incense and sparkling moon-light reflected on Huong surface make Huong River more and more fanciful and romantic. Along with Huong River, Ngu Binh Mountain is the second priceless gift given to Hue by the Creator. Picture of Huong River together with Ngu Binh Mountain is a charming mountain-water painting of Hue.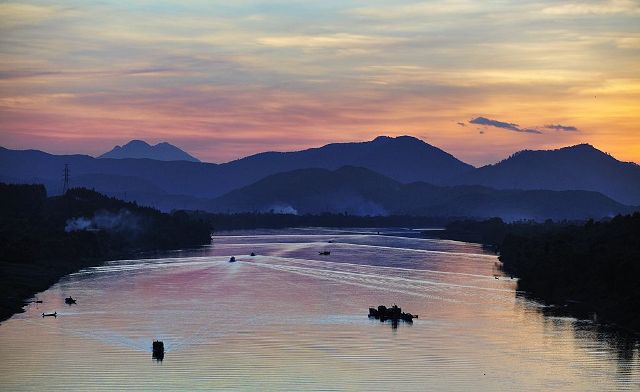 Ngu Binh Mountain likely covers the Huong River
Ngu Binh Mountain which is also called Bang Son (Flat Mountain) a trapezoidal mountain with about 105 meters in high. It shape looks like a sconce, there are two soil mountains at two sides: Ta Phu Son and Huu Bat Son. Ngu Binh is an important mountain. In the past, the Kings planted pine trees from the food to the peak of this mountain that were lush green all year round. This is the reason why there was an old saying that "Thong reo nui Ngu" (Pine trees on Mount Ngu Binh). Looking Mount Ngu Binh together with two others mounts of Ta Phu and Huu Bat like a phoenix is spreading wings to protect the royal generations.
Standing on Ngu peek and listening to the ring sound of pine trees then taking panoramic view away, Hue Citadel is as loomed as clear among green trees. Huong River looks like a curving silk ribbon and further far white sand dune of Thuan An beach. The mountain is not so high, the way-up is not steep but Ngu Mountain owns a thoughtful man appearance.
Ngu Mountain's beauty doesn't come from fengshui destination to protect Hue Citadel. The beauty is the closeness with Hue residents. Ngu Mount becomes an observation deck, a high building and residents can climb up to zoom eye to contemplate cherubic beauty of Hue Citadel, to listen the echo from far away back. Anyone comes here will feel like that they are in one another planet.
Useful travel information about Hue
Time: Tourists should update the time when Hue festivals are held (remember to change the lunar calendar to the solar calendar) so that you can book flights, train tickets... in a timely manner with good prices and don't miss the big festivals here.

Bring all necessary personal documents, especially passport / identity card and 1 small notebook to record the address, phone number, ...

Prepare travel luggage: you also need to prepare personal items and belongings such as toothbrush, toothpaste, mouthwash, comb, towel, shampoo, shower gel, facial cleanser, anti-wrinkle cream sun, antibacterial soap, makeup remover, cosmetics or creams and shaving equipment for men. Remember to bring maps and electrical equipment such as: camera, battery, charger, memory card.

Shoes: visitors will need to walk quite a lot to be able to visit and explore here. So,you should prepare soft shoes for comfortable moving

Shopping: If visitors come to Dong Ba market, consider the items thoroughly, consult the price, quality, ... before starting to ask the seller and pay the price.
Take a Look at Our
featured tours
Call to book
(+84) 3 87 86 68 52